NCBN DIVERSITY IN LEADERSHIP CELEBRATION & AWARDS BRUNCH [POLITICS & BUSINE...
Description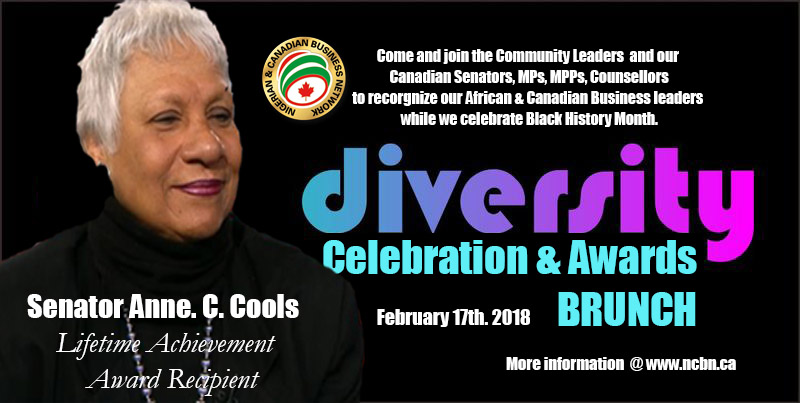 The Business Brunch with the Leaders Series features prominent International and National Business and Political leaders speaking on a variety of progressive topics.
The Nigerian and Canadian Business Network (NCBN) and the Black History Ottawa are collaborating to host the DIVERSITY IN LEADERSHIP CELEBRATION & AWARDS BRUNCH [POLITICS & BUSINESS] | BHO February Edition on Saturday, February 17th at the Infinity Convention Centre, Ottawa.
Attendees will have the opportunity to meet and engage with several of the current visible minority Canadian Members of Parliament as well as who's who in the Business Community in Canada.
Senator Anne Cools, Canada's first African Canadian Member of Parliament, will be our celebrated guest of honour. Part Proceeds from the event will be donated to Black History Ottawa.
This project is particularly valuable to the community and it is aimed at engaging both African-Caribbeans and Canadian voters in the next Election. The goal is to get people to vote but we also want to get people educated about the political system, the democratic process and the responsibilities of citizenship. It will be a celebration of our community coming of age in terms of political participation and business networking.
This will be an opportunity for members of the community to engage with their elected officials. Let them hear your concerns. The Members of Parliament are positive parliamentary role models for the youth and newcomers from the African Canadian community. It will also be an opportunity for the community to engage with the PM, Premier, Mayor, community leaders and more than 50 MPPs, MPs and Senators while we recorgnize the leaders within our business community.
Our message is really directed to those within the African & Caribbean Canadian communities who see themselves as Canadian and who are concerned about what is happening in our country, in our society, and in our business community.
The event is for anyone who is interested in Canada's relationship with the immigrant business community.
This event offers you an excellent networking opportunity with who's who of doing business in both Canada and Africa.
Saturday, February 17th, 2018 from 10:00am-1:30pm.
Hosted at the INFINITY CONVENTION CENTER,
2901 Gibford Drive, Ottawa, Ontario.
Space is limited. Register today.