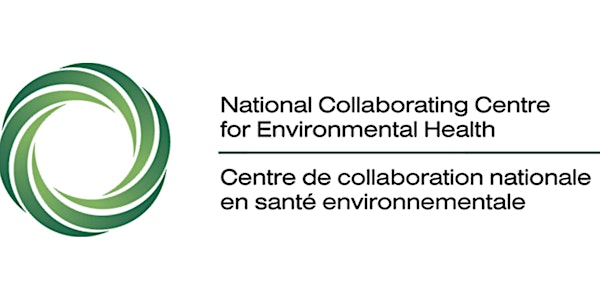 NCCEH Environmental Health Seminar
Date and time
Thursday, April 26, 2018 · 12 - 1pm PDT
Location
BC Centre For Disease Control / Online webinar 655 12th Ave W Lane Level Lecture Hall Vancouver, BC V5Z 4R4 Canada
Description
The National Collaborating Centre for Environmental Health invites you to attend the upcoming Environmental Health Seminar. Webinar instructions will be included in the confirmation email. A recording of this webinar will be posted on the NCCEH website.
Seminar details
Title: Monitoring Health Impacts of Climate Change: A GIS Application to Display Real-Time Surveillance of Environmental Data and Health Outcomes Combined with Demographic Information
Speakers:

Dr. Paul Belanger, Director, Knowledge Management, KFL&A Public Health
Dr. Nancy VanStone, Research Associate, Knowledge Management, KFL&A Public Health
Summary:
A key need for climate change adaptation strategies is effective public health surveillance. Geographic Information System (GIS) applications are common tools for public health purposes. GIS technology provides visual tools—through the creation of computerized maps, graphs, and tables of geographic data—that can assist with problem solving and inform decision-making. KFL&A Public Health has developed and maintains a situational awareness tool, the Public Health Information Management System (PHIMS) that enables visualization and spatial analysis of environmental data with underlying population-based indicators (demographics). PHIMS also displays real-time aggregate health outcomes for geographical units as small as the forward sortation area. Health outcomes are provided by the Acute Care Enhanced Surveillance (ACES) system that provides emergency department-based syndromic surveillance for Ontario. By overlaying information regarding environmental or weather hazards with both hazard-based health outcomes and demographic information, public health events can be identified earlier to better prevent, prepare for, and respond to emergencies.
Discussion will include applying GIS-based surveillance tools to monitor the health impacts of climate change at local, regional, and—potentially—national scales.
Speaker Bio:
Dr. Paul Belanger is the Director of Knowledge Management (KM) for KFL&A Public Health, a local public health agency in Kingston, ON. He is also an Associate Professor of Geography at Queen's University.
Dr. Nancy VanStone is a research associate with KM with a focus on surveillance of climate-related health hazards. The KM team develops and maintains several GIS-based tools to aid health systems oversight and decision-making, such as the ACES and PHIMS systems described in the abstract, as well as applications to monitor hospital usage and surge capacity. One emphasis of their work includes providing tools for public health program planning to address the health impacts of climate change.
Please note: Citrix GoToMeeting webinar capacity is limited to 100 attendees. To accommodate this, please consider attending the webinar as part of a group. If you are unable to attend after registering, please cancel your registration prior to the event. Thank you!
These sessions are eligible for CIPHI Professional Development Hours. If you would like a letter of credit validation for CIPHI PDHs, please specify this on the registration form. Letters are sent out annually in January.