Sales Have Ended
Ticket sales have ended
Waitlist Available - Please contact Nicole at nicoles@nanaimocdc.com or 250-753-0251 ext 278 if you would like to be added to the waitlist for this workshop.
Sales Have Ended
Ticket sales have ended
Waitlist Available - Please contact Nicole at nicoles@nanaimocdc.com or 250-753-0251 ext 278 if you would like to be added to the waitlist for this workshop.
Description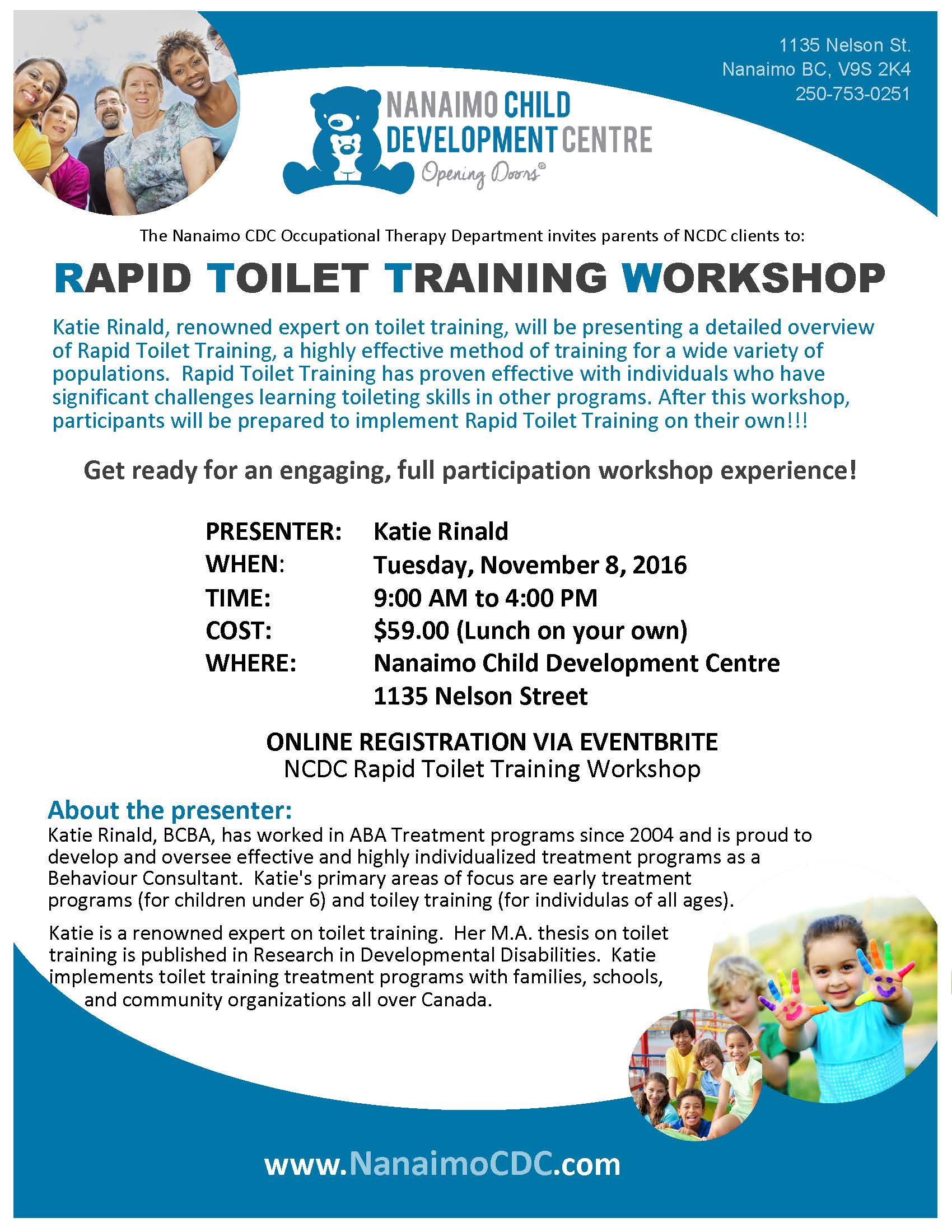 Get ready for an engaging, full-particpation workshop experience !!!!
Focus of Workshop: Katie Rinald, renowned expert on toilet training, will present a detailed overview of Rapid Toilte Training, a highly effective method of training for a wide variety of populations. Rapid Toilet training has proven effective with individuals who have significant challenges learning toileting skills in other programs. After this workshop, participants will be prepared to implement Rapid Toilet Training on their own.

About the Presenter: Katie Rinald, BCBA has worked with ABA Treatment programs since 2004 and is proud to develop and oversee effective and highly individualized treatment programs as a Behaviour Consultant. Katie's primary areas of focus are early treatment programs (for children under 6) and toilet training (for individuals of all ages).
Katie's, M.A. thesis on toilet training, is published in Research in Developmental Disabilities. Katie implements toilet training treatment programs with families, schools and community organizations all over Canada.
FAQs
WHICH PROFESSIONAL FIELDS IS THIS WORKSHOP FOCUSED TOWARD?
Professionals such as OT's, PT's, Infant Development Programs, Behavioural Consultants, Behavioural Interventionists, School Personal, basically any professional who would like to enhance their knowledge in connection to supporting children and parents in the topic of toilet training.
WILL THERE BE CONTINUING EDUCATION / PROFESSIONAL DEVELOPMENT CERTIFICATES AVAILABLE?
Yes, all participants at the end of the workshop will receive a certificate.
WILL LUNCH BE PROVIDED?
Lunch will be on your own, so please bring your own "brown bag" lunch or you can check out the list of coffee shops and café style restaurants that are close by. We will have coffee, tea, water and light snacks. Would be beneficial if you could please bring your own coffee / tea travel mug and/or water bottle, as we will be theatre style seating.
HOW LONG IS OUR LUNCH BREAK AND IS THERE SOMEWHERE CLOSE TO GET A QUICK LUNCH IF I DECIDE TO NOT BRING ONE WITH ME?
There will be an one hour lunch break and you are welcome to bring your own lunch with you or you might want to check out one of the coffee shops / deli or fast food restaurants nearby.
BROOKS LANDING: 5 - 10 minute walk one way
Tim Hortons Save-On – Deli The Sandwich House – http://sandwich-house.ca/
TERMINAL PARK: 10 - 15 minute walk one way
Starbucks Nemo Sushi to Go - https://www.yelp.ca/biz/nemo-sushi-to-go-nanaimo
Burger King Macdonalds
IS THERE PARKING AVAILABLE ON SITE?
There is limited street parking, so you might need to be prepared to walk a little ways.
DO I HAVE TO BRING MY PRINTED TICKET TO THE EVENT?
No, we will have a list of everyone who has registered at check in. (You will receive an email confirmation of your ticket registration and fees paid for your records.)

WHAT DO I DO IF ALL THE WORKSHOP TICKETS ARE SOLD OUT?
Please contact Nicole and she will add you to the wait list!!! Please email nicoles@nanaimocdc.com or call 250-753-0251 ext 278
IF I HAVE ANY FURTHER QUESTIONS, WHO WOULD I CONTACT?
Please email nicoles@nanaimocdc.com or call Nicole at 250-753-0251 ext 278