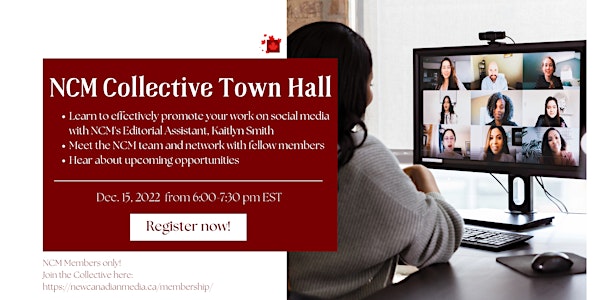 NCM Collective Town Hall
Calling all NCM Collective members! We are hosting a virtual Collective Town Hall on Thursday, Dec. 15 from 6:00 to 7:30 pm EST
About this event
Calling all NCM Collective members! We are hosting a virtual Collective Town Hall on Thursday, Dec. 15 from 6:00 to 7:30 pm EST. Editorial Assistant, Kailtyn Smith, will be giving a presentation sharing tips on how to effectively promote your work on social media. This will also be a great chance for Collective members to meet the current team and fellow members to network and brainstorm new ideas while learning about the upcoming opportunities NCM has to offer.
Learn to promote your work on social media with NCM's Editorial Assistant, Kaitlyn Smith
Meet the NCM team and network with fellow members
Hear about upcoming opportunities
Learn more about story ideas and assignments
News on French projects
Mentorship opportunities
Upcoming microcredential program with Seneca College
This event is for NCM Collective members only. To join the Collective click here.
Join the zoom here: https://us06web.zoom.us/j/5087909192
------------------
Appel à tous les membres du Collectif !
Nous organisons une séance de discussion collective virtuelle le jeudi 15 décembre de 18h à 19h30, heure de l'Est. Kaitlyn Smith, adjointe à la rédaction, fera une présentation sur la façon de promouvoir efficacement son travail sur les médias sociaux. Ce sera également une excellente occasion pour les membres du Collectif de rencontrer l'équipe actuelle et les autres membres afin de nouer des contacts et de trouver de nouvelles idées tout en découvrant les opportunités à venir que NCM a à offrir.
Apprenez à promouvoir votre travail sur les médias sociaux avec Kaitlyn Smith, l'adjointe à la rédaction de NCM
Rencontrez l'équipe du NCM et établissez des contacts avec les autres membres
Découvrez les opportunités à venir
Apprenez-en davantage sur les idées d'articles et les reportages
Des nouvelles sur le projet en francais de NCM
Les opportunités de mentorat
Programme de micro certification au Collège Seneca à venir
Cet événement est réservé aux membres du collectif NCM. Pour rejoindre le collectif, cliquez ici.
Rejoignez l'événement ici : https://us06web.zoom.us/j/5087909192