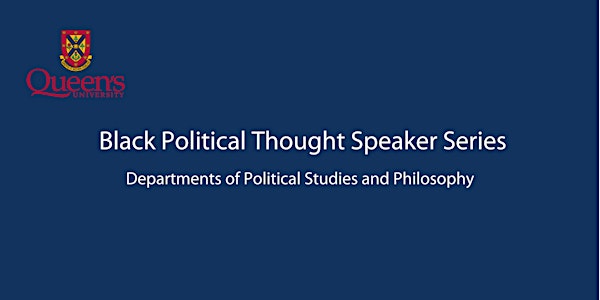 Ndumiso Dladla - Black Political Thought Speaker Series
Black Political Thought Speaker Series - Departments of Political Studies and Philosophy
By Department of Political Studies, Queen's University
Date and time
Tue, Jun 15, 2021 1:00 PM - 3:00 PM PDT
About this event
"The Invention of Blacks: Notes on Conquest, Fear and Time"
Ndumiso Dladla
Tuesday, June 15, 2021 | 4:00 pm - 6:00 pm
ABSTRACT | Taking South African history as its starting point, the talk will defend a hypothesis that Blacks are creatures of war, invented during the conquest of the indigenous peoples in the unjust wars of colonisation. As a method of establishing sovereignty, conquest is not simply the defeat of the Other in war but describes instead a relation of domination which can potentially arise following the defeat itself. Making this point Hobbes maintained that "He […] that is slain is overcome, but not conquered; he that is taken, and put into prison or chains is not conquered […] But he that upon promise of obedience hath his life and liberty allowed him is then conquered and a subject and not before". Throughout Black history, following this 'promise of obedience', the conqueror has used the fear of death of the conquered through the systemic and systematic deployment of deadly violence to reinscribe the terms of covenant. After a discussion of the evolution of the right of conquest in Western philosophy and its historical application in South Africa we will discuss the political ontology of Blackness by focus upon the question of time. We show that around the world wherever Blackness exists, it is accompanied by its own horology which we will examine by focusing on three of its components "lifetime"; "age" and "free time".
BIOGRAPHY | Dr. Ndumiso Dladla is lecturer of African philosophy at the University of South Africa and specializes in African social, legal and political philosophy with an emphasis on the problem race/ism. He has published numerous papers on these subjects. A revised edition of his monograph Here is a Table: A Philosophical Essay on the History of Race/ism in South Africa was published in December 2020 by Stellenbosch University Press. He is currently editing a collection of essays by various authors on the Azanian Philosophical Tradition which is forthcoming in September 2021 in Theoria: Journal of Social and Political Theory. He is a founding member of the Azanian Philosophical Society.