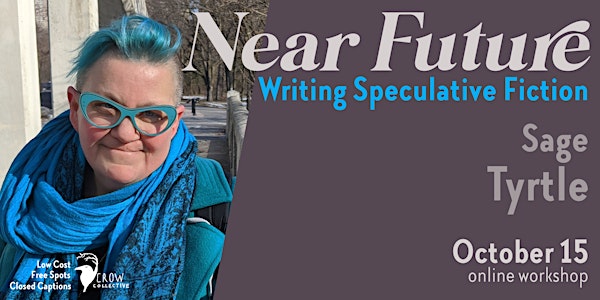 Near Future: Writing Speculative Fiction
Join Sage Tyrtle (Apex, The Offing, New Delta Review) and learn about speculative fiction set in the next week, next month, next year.
About this event
What will be covered in this workshop?
We all had ideas of what life would be like in 2020, and I bet we were mostly wrong. I know I was! Join me for two hours to talk about the wondrous and scary world of Near Future Speculative Fiction. All fiction involves creating our own worlds, but Near Future adds in PROPHECY. You get to look at the world as it is and decide how it changes and the ways that affects your characters, setting, and plot. We'll look at Near Future novels and short stories, write to generative prompts, and there will be (entirely optional) space for sharing that writing.
Who is teaching this workshop?
Sage Tyrtle's work is available or upcoming in Apex, X-R-A-Y, and New Delta Review among others. She's told stories on stages all over the world and her words have been featured on NPR, CBC, and PBS. She runs a free online writing group open to everyone. Twitter: @sagetyrtle
When does this workshop happen?
October 15, Saturday: 7 AM PDT / 10 AM PDT / 3 PM BST / 7:30 PM IST (see below for time zone map)
How long is this workshop?
Two hours.
How is this workshop presented?
This workshop is online, live, and interactive. Participants are encouraged (but not required) to keep their video cameras on, as online events are much more fun when we can all see each other. We'll gather on Google Meet, which is very similar to Zoom and has built-in closed captioning. You will receive the link two days before the workshop.
Will this workshop be recorded?
No, this workshop will not be recorded.
Are there more workshops?
You bet! Just click here to see the Crow Collective workshops open for registration.
Do you have a mailing list?
Yes - click here to sign up for my free, biweekly mailing list.
Do you have a podcast?
Yes - your favourite writing game is now a daily podcast. I'll give you a word every thirty seconds, and you include that word in the sentence you're writing. It's that simple. Click here to come play!
What is the Crow Collective?
Crow Collective workshops are by the writing community, for the writing community. The prices are low so they are more accessible, and there are two free spots (if needed).
Why can't I access the ticket button using the Apple Eventbrite app?
This is a decision on Eventbrite's part. You should be able to access the ticket button using the website instead. If you're still having troubles, feel free to get in touch.