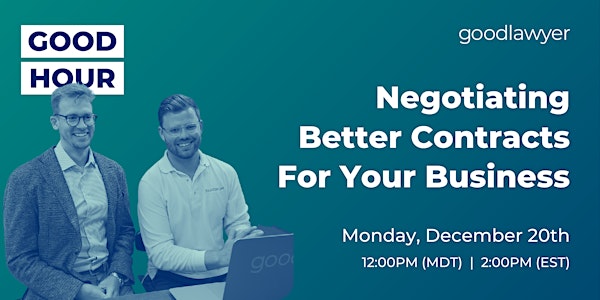 Negotiating Better Contracts For Your Business
Join us for Good Hour on Monday, December 20th at 12:00pm (MDT) / 2:00pm (EST)
About this event
Did somebody say happy hour?
Well, not really (but we're not judging!) Unlike the traditional happy hour, The Good Hour is a time where good business decisions are made.
The Goodlawyer team is back at it with another batch of educational lessons that will level-up your business game. Join us every Thursday at 12:00pm MT this November and December to learn how the law can be used as a tool for building your business.
Whether you're dreamin' and schemin' or knee-deep in the trenches of your entrepreneurial journey, these lessons are for you! Hop on the Goodlawyer rocket to be a part of a community of Canadian entrepreneurs on a similar adventure — looking to take their business to the moon!
What to Expect at this Event:
Whether you're a startup, small business, or a rapidly expanding mid-market company, you have the power to negotiate better, more effective commercial contracts for your business. Josh and Brett share their personal contract negotiations process to help you identify your key commercial risks and opportunities, avoid common contracting pitfalls and negotiate contested terms like a pro!
Want your question answered by Good and Gooder? You can pre-submit your questions here to make sure they don't go missed.
Meet Your Speakers
Brett Colvin, CEO & Co-Founder of Goodlawyer
Josh Weinberger, Chief Legal Officer at Goodlawyer
About Goodlawyer
Goodlawyer is a startup on a mission to democratize legal services.
We connect Canadian entrepreneurs with a diverse network of independent lawyers who offer on-demand services at affordable and transparent prices — so you are never surprised by a legal bill again.
We also offer a ton of free legal resources (like webinars) and our 24/7 Legal Concierge service dedicated to helping startups and entrepreneurs succeed.
In short, think of Goodlawyer as your legal sidekick helping you navigate your startup journey.