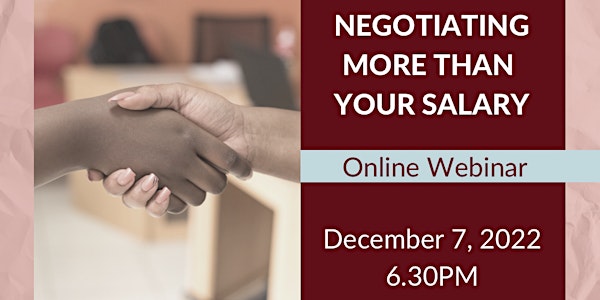 Negotiating More Than Your Salary
A panel discussion with tips, tricks and resources on how to negotiate for more than just your salary when offered a job or promotion.
About this event
Join our free virtual event on December 7 to learn how to negotiate more than your salary.
Our experienced panel will share insights, resources, tips and tricks on negotiation skills to utilize when offered a new job or advocating during a performance review.
Speakers:
Nina Chou, Senior Operations Manager, YWCA
A passionate advocate for those who are unable to advocate for themselves, and empowering others to be the champion of their own lives and success, Nina has worked in the field of Social Services for the past 8 years. She strives to see individuals continue their path of learning and growth and use their strengths to excel into the roles and opportunities that they have found a joy and passion for.
Sarah Maloney, Recruitment Advisor, Vancouver Coastal Health
Sarah has a long background in all thing's recruitment, currently working as a recruitment advisor in management talent acquisition for Vancouver Coastal Health.