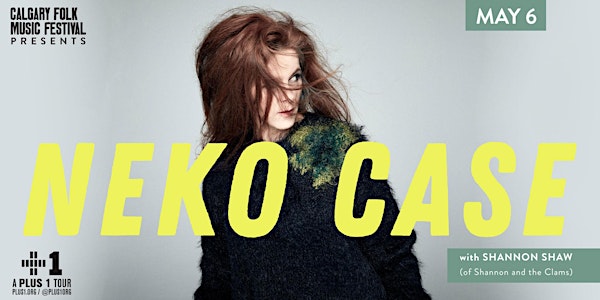 Neko Case with Shannon Shaw (of Shannon and the Clams)
The Calgary Folk Music Festival & Tooth Blackner
Location
MacEwan Hall
402 Collegiate Blvd NW
Calgary, AB T2N 1N4
Canada
Door time: 7:00PM Show time: 8:00PM
About this event
Five years have passed since Case's last solo project, The Worse Things Get, the Harder I Fight, the Harder I Fight, the More I Love You. In the interim, she sang on longtime bandmates the New Pornographers' Whiteout Conditions, released a solo vinyl box set and joined the case/lang/veirs project.
She sought out new stories and sounds and experiences for her next record, teaming up with Peter Bjorn and John's Björn Yttling in Sweden to expand on songs written with longtime collaborator Paul Rigby. In the middle of her Stockholm stint, with the finish line in sight, she received a surreal 3:00 am call that her house was burning and would likely be completely destroyed. She felt panicked and helpless. 
A few hours later, she laid down the vocals for "Bad Luck," singing the lines she had written long before she realized their relevance. She climbed inside her role as producer and wielded it to own what she was already doing.
The record that came out of this reckoning with lost stories delivers familiar Neko Case and something different. Death, extinction, exploitation, tides, animals and adoration all blend recognizably. Case's trademark narrative gaps, just large enough for listeners to enter each song, remain. As with Fox Confessor Brings the Flood and Middle Cyclone, Hell-On spins away from conventions of story, slipping into real life, with its fierce mess and blind catastrophes. They're fairy tales that reflect her own life story, even though they're not about her. The record was born at the hands of some three dozen performers, including k.d. Lang, Laura Veirs, Calexico's Joey Burns, Guided by Voices' Doug Gillard and Screaming Trees frontman Mark Lanegan. The production is expansive and edgy, featuring kalimba notes, big choruses, melancholy grooves, hooks, marching rhythms, soaring vocals and anthemic poetry.
A force of nature, an act of a mercurial, forgotten god, Hell-On is a record sealed by fire, filled with love and rage and dangers that might lay waste to everything at any moment. For the cover, she made a warrior's helmet out of cigarettes. Interior and exterior shots of her incinerated house appear on the gatefold and booklet. And a tiny pop-open charred Brothers-Grimm cottage serves as the set for the video of "Bad Luck." It was as if nature invented a landscape for Hell-On after the fact; a bleak scene where beauty still remains.
Neko Case has partnered with PLUS1 so that $1 from every ticket will go to support Urban Native Youth Association and their culturally responsive, holistic programs and services helping Indigenous youth explore their personal goals for education, work, culture, and life, in a fun, safe, and healthy environment (www.unya.bc.ca).