NENA 2016 - National Emergency Nurses Association Annual Conference

Thursday, 21 April 2016 at 4:00 PM

-

Sunday, 24 April 2016 at 12:00 PM (EDT)
Event Details
Unleash the power of ED nurses
National Emergency Nurses Association Annual Conference
Montreal, Quebec, Canada 
April 21 to 24, 2016
Take part in the National Emergency Nurses Association Annual Conference (NENA), organized in partnership with the Association des infirmières et infirmiers d'urgence du Québec (AIIUQ), to be held at the Hotel Omni Mont-Royal in Montreal from 21 to 24 April 2016.

The scientific committee has prepared a unique program that will aim to consolidate the areas of clinical practice of a nurse in the emergency room. The congress will focus on the theme: UNLEASH THE POWER OF ED NURSES. As part of this conference, innovation, specialization required scope of practice, the potentiation of the role of the nurse, clinical expertise and the own body of knowledge in our specialty will be at the heart of presentations and workshops.

Register before March 21, 2016 for the discounted price.


All sessions at the 2016 NENA conference in Montreal will be available in French and English. If the session is presented in English, French translation will be available. If the session is offered in French, English translation will be available.
The EPICC session, presented during the pre-conference, will run twice, once in French and again in English.
Your registration must be completed by April 17, 2016 to ensure that the course materials are ready for you at the conference.

Simultaneous translation available for each session of the conference.



INFORMATION
Website: http://nena.ca/conferences/nena-conference-2016
Email: conference2016@nena.ca
Venue: Hôtel Omni Mont-Royal, 1150, Sherbrooke West, Montreal, Quebec, Canada, H3A 2R6
Program available on the website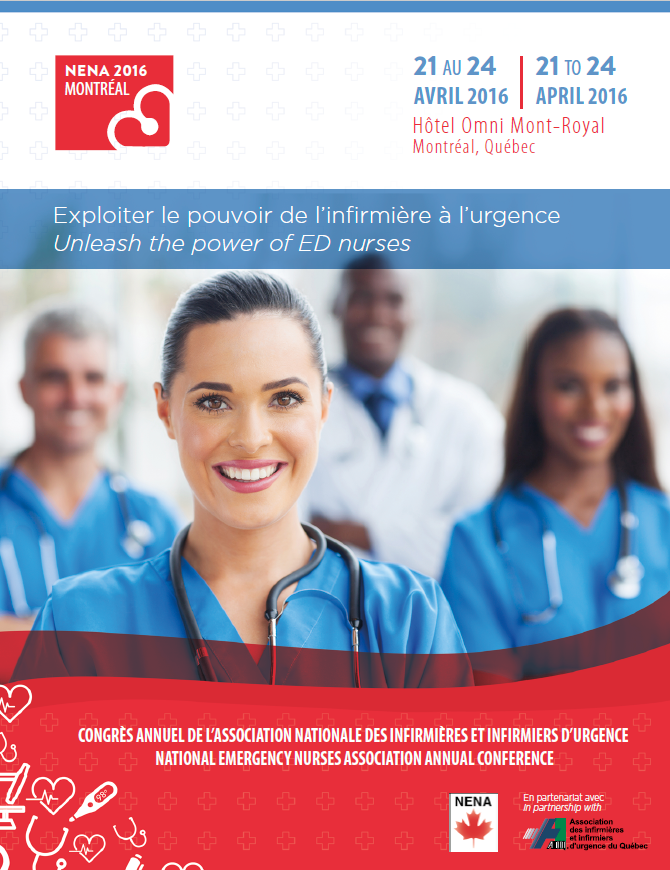 Pre-conference program
Session offered in French and English
Nutrition breaks and lunch included
EMERGENCY PRACTICE, INTERVENTIONS AND CARE - CANADA (EPICC)
(places limited) 
April 20-21, 2016

For many years, the Emergency Nurses of Canada have been requesting a Canadian-developed course to cover the core concepts of being an emergency nurse. The EPICC course is being designed to benefit both new and experienced practitioners and is expected to be two days in length with an online preparation beforehand.
The purpose of the course is to provide a standardized approach to the emergency department patient with a variety of presentations. In addition to discussing presenting complaint pathophysiology and standardized treatment, a focus will be placed on rapid plans of care, follow-up assessments and formats to communicate clinical data to other nurses and health care professionals.
For more information: http://prnc.ca/EPICCInfo.pdf
Session offered in French Only
April 21, 2016
Health professionals who work in emergency departments have to break bad news to families in shock almost on a daily basis. How you communicate with these families can have a big impact on care quality and these families' process. NENA and AIIUQ teamed up with Transplant Qébec to offer a full day of training sessions to develop your communication skills and help you interact with families going through some very hard times.
The purpose of this course is to help you develop the skills you need to interact adequately with families in crisis through an unexpected death, a sudden illness with a poor prognosis, traumatic mourning, a neurological death, or an organ/tissus donation situation.

Sign up for a getaway in Old Montreal!
The activity specially designed for you includes a cocktail reception in Old Montreal, an exclusive tour of Pointe-à-Callière museum, a presentation of Moment Factory multimedia show named Yours Truly, Montreal and transportation.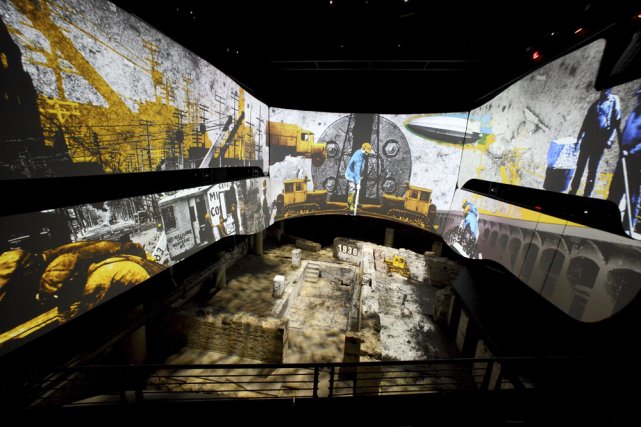 BOOK YOUR NIGHTS
Hôtel Omni Mont-Royal
1150, Sherbrooke West, Montreal, Quebec, Canada, H3A 2R6 - Tel. : 514-284-1110
Note that for all room reservations, as participants you are entitled to a discount. Book your nights by visiting the following link to receive your special rate!
http://www.omnihotels.com/hotels/montreal-mont-royal/meetings/national-emergency-nurses-association


FAQ 
Are there any requirements for identification required to register the event?


You must provide your student ID and educational institution to qualify for the student discount, or the discount code provided by NENA to benefit from the member rate.

How do I contact the organization if I have questions?


You can reach us by email at conference2016@nena.ca. The response time is 24 to 48 hours, in working days

What is the policy on refunds? Can I transfer my registration?


We must receive written notification of your cancellation. A $75 processing fee will be deducted from registration refund. No refunds after April 1st, 2016 - substitutes accepted.
Have questions about NENA 2016 - National Emergency Nurses Association Annual Conference?
Contact NENA 2016
When & Where

Hotel Omni Mont-Royal
1050 Rue Sherbrooke Ouest
Montreal, QC H3A 2R6
Canada

Thursday, 21 April 2016 at 4:00 PM

-

Sunday, 24 April 2016 at 12:00 PM (EDT)
Add to my calendar