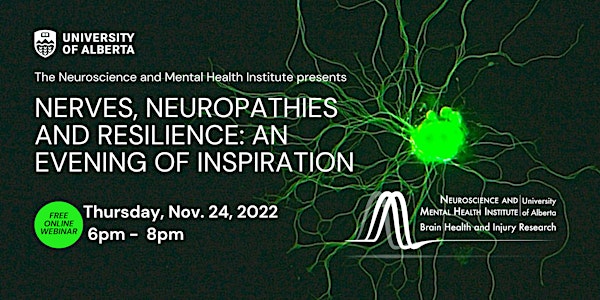 Nerves, Neuropathies and Resilience: An Evening of Inspiration
Exploring nerve disorders, like Guillain-Barré Syndrome, inspirational recovery stories, new medical treatments and research advances.
About this event
Join the Neuroscience and Mental Health Institute for a free public lecture and hear from an inspiring doctor who went from being a quadriplegic to walking without aids and a brave mom who fought back against postpartum Guillain-Barré Syndrome. And – meet the University of Alberta researchers and physicians working on new advances like electrical stimulation and new molecular treatments to promote nerve regeneration, nerve regrowth and recovery.
Featuring:
Moderator: Dr. Doug Zochodne, Director, Neuroscience and Mental Health Institute.
Dr. Robert Agostinis, Physician and Patient, afflicted with a rare neuromuscular disorder.
Dr. Cecile Phan, Associate Clinical Professor, Faculty of Medicine & Dentistry, Medicine Department, U of A, is a neuromuscular specialist with interests in muscle disorders, neurogenetics and inflammatory neuromuscular disorders.
Dr. Ming Chan, Professor in the Division of Physical Medicine & Rehabilitation, U of A, "New methods of nerve repair - how can we get nerves to grow faster and better?"
Holly Frances, Author and GBS Survivor and Advocate.
Dr. Christine Webber, Associate Professor in the Division of Anatomy, U of A, "How conditioning electrical stimulation accelerates nerve regeneration."
Learn more at UAB.CA/NMHITALK
NOTE: Please register with this Zoom link and you will receive an email with your Zoom link.
https://ualberta-ca.zoom.us/webinar/register/WN_yHb0y0W8QLyYUnaLtWQJ8Q