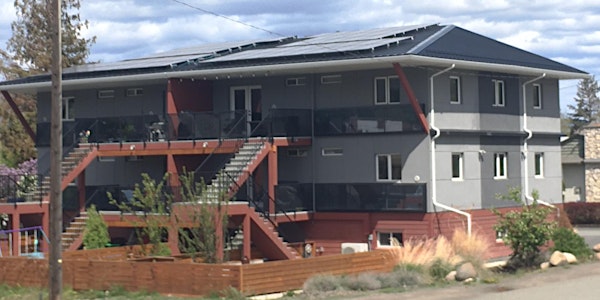 Net Zero Home Tour
Homes: the future is net zero. Find out what net zero means and how new home construction is changing.
About this event
In 2018, BCSEA Kamloops Chapter held a public event to showcase Nexbuild Construction's newly completed net zero sustainable 4-plex located near the beautiful Rivers Trail on the North Shore. Since then, Miles Pruden, owner of Nexbuild Construction, has completed a new two-story building near MacDonald Park, which has incorporated some new features of sustainable design.
BCSEA Kamloops Chapter is pleased to announce we have again partnered with Miles Pruden to host a tour to showcase the performance data and learnings from the 4-plex plus the sustainable features of the newly completed two-story building.
Find out what net zero means and how building or retrofitting your home will:
reduce future energy expenses for the life of your home
protect the value of your investment as home energy standards change
benefit your family's comfort and health
assist in meeting Kamloops' greenhouse gas reduction targets
The tour location addresses will be provided upon registration. Tour participants will be grouped in sizes appropriate for the indoor space. Masks are not required but are welcome for those who prefer to wear them. Participants are encouraged to car pool or cycle to the event if possible. Parking will be on the street. Note that the tour will require participants to negotiate flights of stairs. Participants intending to visit both sites please allow driving time of 5 minutes, cycling time of 7 minutes. Washrooms will not be available.
BCSEA Kamloops Chapter volunteers will be onsite to welcome registrants, answer questions, and watch over locked bicycles.
By registering for this event, you agree to receive BCSEA's provincial and local e-newsletters. You can unsubscribe at any time.