Networking and Educational Seminar. Wellness Talks
Description
You are kindly invited to join us Sept 27th north Toronto, Bradford for Networking and Educational Seminar. This event will provide you with knowledge to meet the challenges we face, and accelerate the growth to meet best potential.
IWB Seminars are lead by practical hands on people, superior leaders socially conscious, ethical and kind.
Canada is a land of immigrants. Their extraordinary journeys and accomplishments strengthen our democracy and help the nation progress in countless ways. And their powerful stories enrich our society. Join us to connect, learn, engage … benefit from training, advice, support.
6.00pm: Networking
6:30pm: Dr. Safaa Elbanna, How Wellness Improves The Bottom Line
7.00pm: Francina Grazette. Applying fitness principles to business
7.30pm: Alla Krimus, 'From a frail child to a a champion athlete!'
8.00pm Networking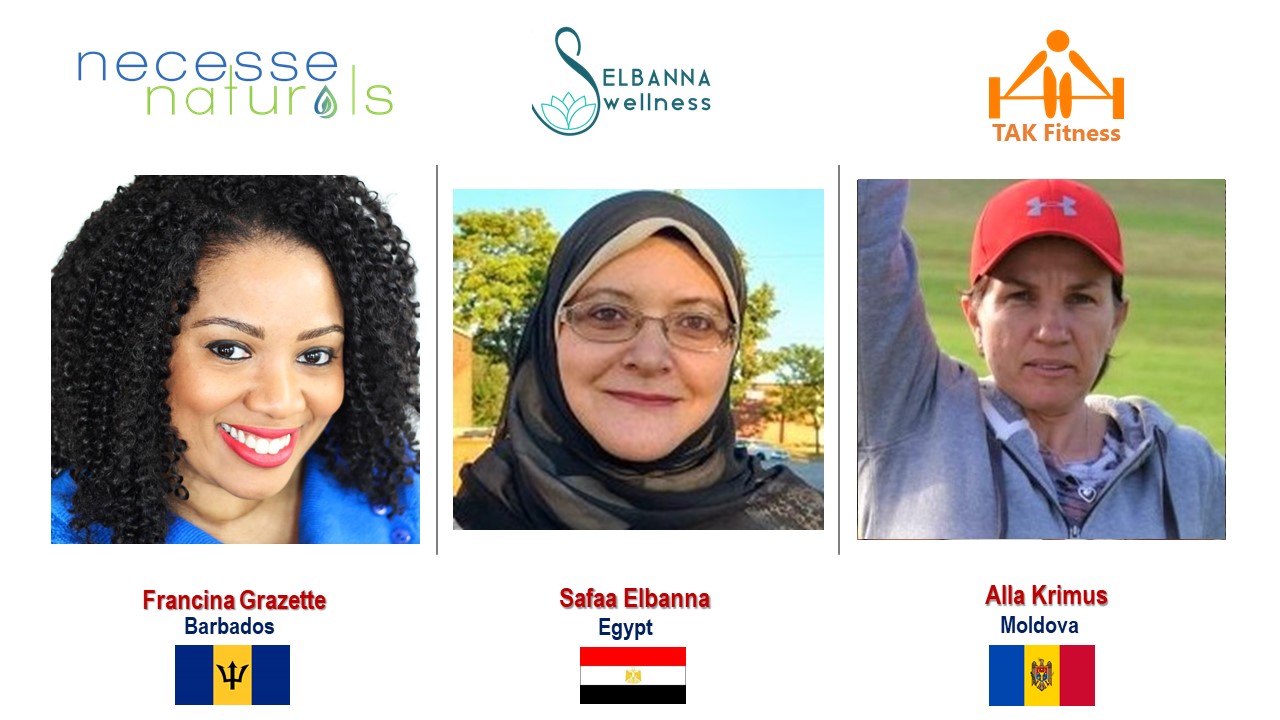 Dr. Safaa Elbanna, Homeopath, Holistic Skin Care Practitioner and MD in the MiddleEast.
'Everyone always wants to know the secret success' says Dr. Safaa … People expect the answer to be some magical trick or complex formula that only the brightest and most successful people in the world have discovered or were lucky enough to stumble upon by chance, but it's actually pretty simple. Ready for it? … Take care of yourself. Treat your mind and my body with respect. Take your own health and wellness seriously… 'http://mypurewellness.com/about-me/
Francina Grazette, Founder & CEO Necesse Naturals - will talk about the correlations and similarities between exercise principles and business. Here are four basic once - Know yourself, Push yourself, Consistency, Constantly learning and being open-minded … We all know (in theory) that life is about learning, changing, adapting and, through all of this, progressing…http://immigrantwomeninbusiness.com/founding-members/francina-grazette/
Alla Krimus, Fitness Coach Trainer. Special focus on women over 40, specializing in Fitness Therapy, Unique approach to seniors and those living with disabilities, Elite military forces fitness prep, Sports and medical massage therapy, Joint and muscle therapy, Coached Junior Champion of Israel in long-distance running. "Growing up as a frail child tended to be sick a lot, today I am an example how crossing paths with the right trainer can help anyone become a champion athlete!" http://fitnesstak.ca/alla/
Lusia Malik, Founder & CEO CU Optical
Prevention is better than cure, and eye health is no exception. With Lusia's talk you will learn about clear plan on the foods, nutrients, and lifestyle habits that will help you to maintain healthier eyes. Our eyes are two of our most precious possessions — yet, all too easily, we take good eyesight for granted... http://cuoptical.com