Description
My Dear Friends and Associates, Fabulous People of Toronto North, Bradford. Great news starting summer 2018! You are invited to join us August 25th for an exclusive private gathering, the launch of a new IWB Chapter in Bradford -- Immigrant Women in Business.

We strive to welcome all - especially important place for immigrants. (Both genders are welcome).

IWB specializes in integrated multicultural joint ventures that help organizations, governments and private corporations engage and connect with Canada's diverse ethno-cultural communities.
This is the opportunity for you to partner closely with some amazing business high-achievers and industry leaders.
4.00pm: Mix and mingle
5.00pm - Inspirational Speeches by Leaders, Activists
5:30pm - Emma Kaufman 'Principles of a Struggle Free business'
5:45pm - Assiatou Diallo 'Always choose freedom'
6:00pm - Lyudmila Bezpala-Brown 'Creative Financing for Business'
6:15pm - Discussion, Action Plan, Benefits - Lusia Malik
6.30 - 7:30pm – Networking, Wine & Cheese

Bring extra business cards so you can enter the draw to win Mentoring sessions with IWB Founding Members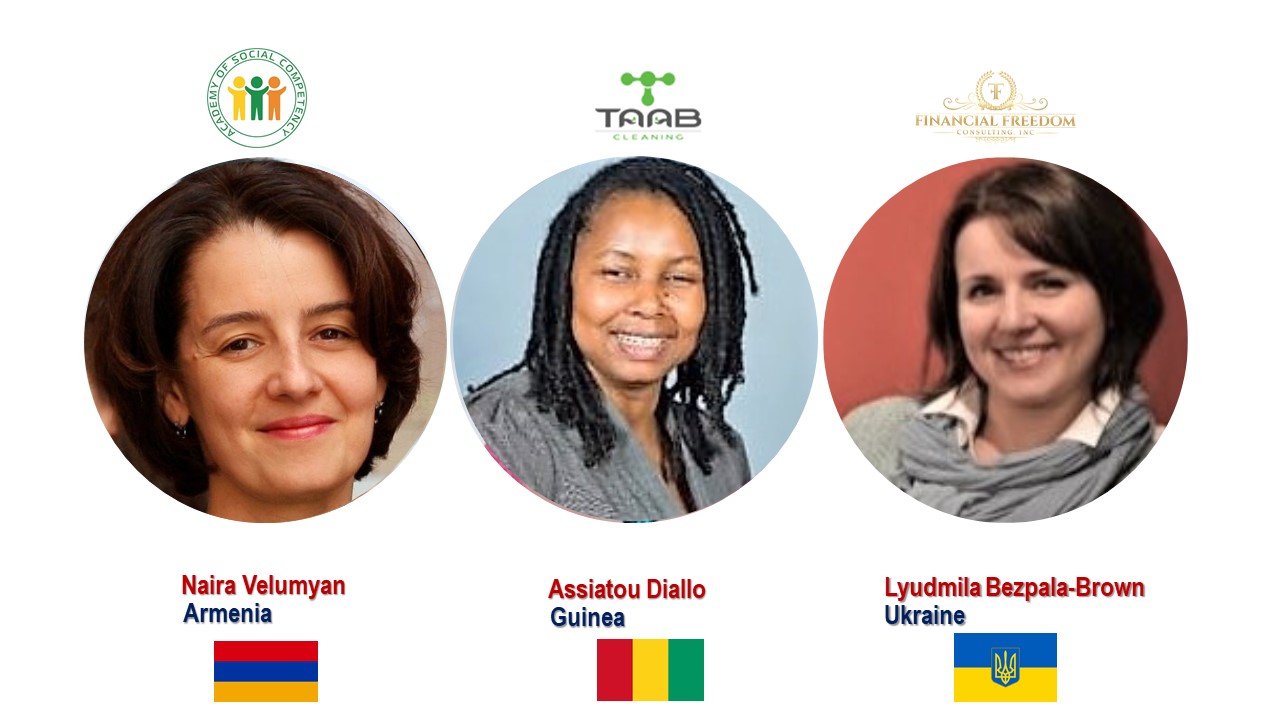 Naira Velumyan, PhD in Psychology, Serial entrepreneur. Founder Academy of Social Competency 'Effective communication skills: What are they and how to improve them?' The Academy was created by Naira Velumyan, serial entrepreneur with 22-year experience, group coach, registered psychotherapist, etiquette expert certified by Austrian High School of Etiquette http://academyofsocialcompetency.com
Have you ever wanted to communicate better? Do you feel insecure when speaking in public? Is it hard for you to write? In this gathering you will find out 10 Effective Business Communication Techniques
Assiatou Diallo 'Always choose freedom'
Assiatou is an entrepreneur, mother and avowed feminist. From a young age she has actively participated in initiatives supporting women's issues. Her current interest is to promote the emancipation and financial independence of women in general and especially women who are victims of domestic and family violence. She is dedicated to helping others and is very involved in her community. She was recognized by YWCA for her success and delivered a keynote speech at the Women of Distinctions Awards, in recognition of her incredible perseverance. http://immigrantwomeninbusiness.com/assiatou-diallo/

Lyudmila Bezpala-Brown, LL.M., MBA ''Creative Financing for Business'
Don't let the financial freedom gap affect you. Now is the time to educated about options, understand the causes of the gender wage gap, set new financial goals, and take steps to protect your financial future.