Description
My Dear Friends and Associates, Fabulous People of Toronto North, Bradford. Great news starting summer 2018! You are invited to join us August 25th for an exclusive private gathering, the launch of a new IWB Chapter in Bradford -- Immigrant Women in Business.

We strive to welcome all - especially important place for immigrants. (Both genders are welcome).

IWB specializes in integrated multicultural joint ventures that help organizations, governments and private corporations engage and connect with Canada's diverse ethno-cultural communities.
This is the opportunity for you to partner closely with some amazing business high-achievers and industry leaders.
4.00pm: Mix and mingle
5.00pm - Inspirational Speeches by Leaders, Activists
5:30pm - Emma Kaufman 'Principles of a Struggle Free business'
5:45pm - Assiatou Diallo 'Always choose freedom'
6:00pm - Lyudmila Bezpala-Brown 'Creative Financing for Business'
6:15pm - Discussion, Action Plan, Benefits - Lusia Malik
6.30 - 7:30pm – Networking, Wine & Cheese

Bring extra business cards so you can enter the draw to win Mentoring sessions with IWB Founding Members.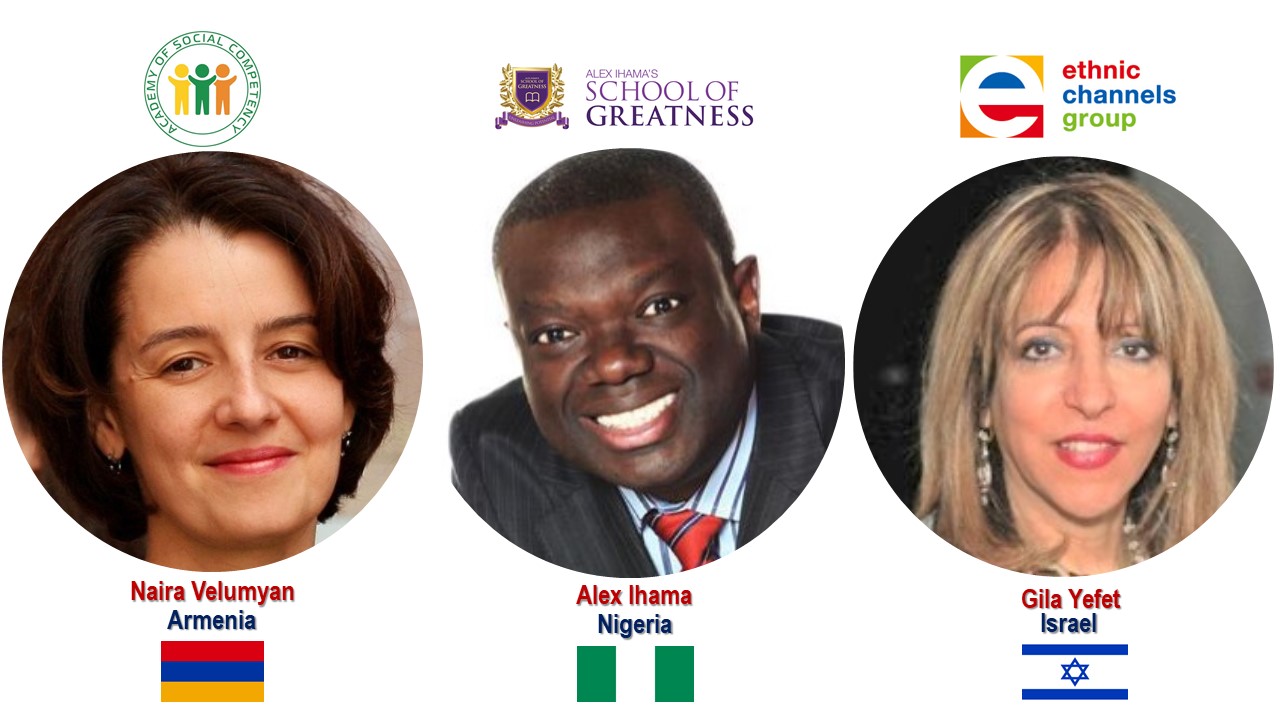 Naira Velumyan, PhD in Psychology, Serial entrepreneur. Founder Academy of Social Competency 'Effective communication skills: What are they and how to improve them?' The Academy was created by Naira Velumyan, serial entrepreneur with 22-year experience, group coach, registered psychotherapist, etiquette expert certified by Austrian High School of Etiquette http://academyofsocialcompetency.com
Have you ever wanted to communicate better? Do you feel insecure when speaking in public? Is it hard for you to write? In this gathering you will find out 10 Effective Business Communication Techniques
Alex Ihama, Professional Speaker, Author, Management Consultant & Executive Coach Transforming Lives, Companies and Nations Globally
Alex Ihama is an internationally acclaimed speaker who has been delivering keynotes on personal development, leadership effectiveness and strategic management to variety of audiences all over the world for almost two decades. Widely known for his contagious passion, he is often sought after by executives, politicians, pastors, entrepreneurs, academicians and other groups for the extensive knowledge which he acquired from his dramatic childhood, his deep research on life, business and spiritual matters, his wide intercontinental travels, and his consistent involvement in the lives of thousands through speaking, coaching, training, consulting, mentoring and writing. http://alexihama.com

Gila Yefet immigrated to Canada from Israel at the age of 12. She is an Advertising Sales Executive at Ethnic Channels Group and has been a host of her TV show on the Israeli channel for the past ten years.
Gila is a pillar of our community; she is a Mediator, a legal support worker and a founder of "Women of Courage and Strength" - a support group for abused women. She is a motivational speaker and a life coach and is currently writing her first book. Her contribution spreads unto many different fields as she passionately dedicated
her life to helping those in need. http://www.ethnicchannels.com/advertising.php
Organizer of Networking and Inspirational Leadership Event
IWB is a non-profit social enterprise association. IWB specializes in integrated multicultural joint ventures that help organizations, governments and private corporations engage and connect with Canada's diverse ethno-cultural communities to build profile and brands. Our members are committed to improving the world through positive leadership, compassion and dedication to learning, growing and giving. http://immigrantwomeninbusiness.com