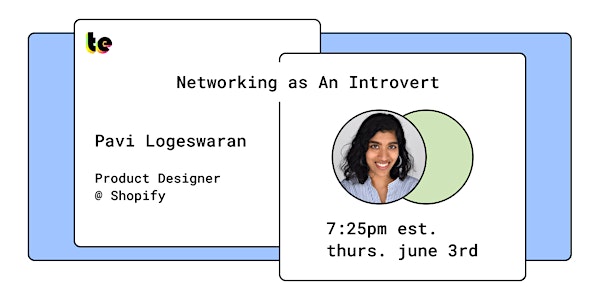 Networking as an Introvert w/ Pavi Logeswaran (Product Designer @ Shopify)
How do you network as an introverted UX designer? Let's find out.
About this event
Zoom link included in your ticket after sign up!
You've heard the advice before. "Go network". But what does that mean? Where do you even start? As an introvert this might be especially difficult. So let's talk about it.
Guest: Pavi Logeswaran, Product Designer @ Shopify
Follow Pavi here:
Recent blog post + (Figma UI kit)
Here's the agenda:
(EST) 7:25PM - 7:35 - Welcome & Introductions
(EST) 7:35PM - 8:15PM - Fireside chat about networking as an introverted designer
(EST) 8:15PM - 8:30PM - Open Q&A
Follow Team Effort: