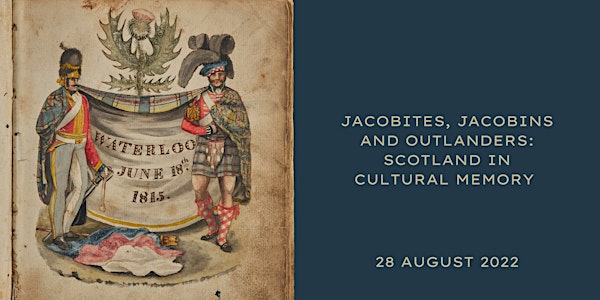 Networking Jacobites: Community Talk & Presentations
Jacobites, Jacobins and Outlanders: Scotland in Cultural Memory
When and where
Location
University of Guelph 50 Stone Road East Guelph, ON N1G 2W1 Canada
About this event
This community event will feature presentations by faculty, graduate students and Archival and Special Collections staff, and is part of a wider partnership between the University of Guelph and Simon Fraser University.
Special guest speaker Professor Viccy Coltman will present an exploratory and informal talk titled, 'Wartime: Scottish officers in military service, 1793-1815.'
In the last thirty years, the study of martial culture in Britain during the period of the Revolutionary and Napoleonic wars has been foregrounded in various humanities disciplines as scholars sought to reclaim academic military history with its traditional focus on campaigns, commanders and tactics for cultural studies, with its equivalent emphases on poems, novels and plays. Despite the efflorescence of publications from history and English Literature, art history has lagged behind, and within the existing literature, there has been no focussed study of Scottish officers and Highland regiments during this period of intense and prolonged warfare that lasted almost a quarter of a century, or a generation. As Captain John Kincaid wrote in his Adventures in the rifle brigade in the Peninsula, France and the Netherlands, from 1809 to 1815, (London, 1830), 'We had been born in war, reared in war, and war was our trade'.
Viccy Coltman's work-in-progress seeks to write a cultural history of wartime which privileges Scottish commanders-in-chief of the British army including Sir Ralph Abercromby and Sir John Moore and the contributions of the 42nd, 79th and 92nd Highland Regiments at major battles of Alexandria (1801) and Waterloo (1815). She situates a range and raft of temporalities at stake in this period and its visual and material representation, both contemporary and posthumous.
In this illustrated talk, Viccy offers an overview of her current book project, focussing on a series of key images and objects which she has identified, including understudied and unpublished martial portraits by Edinburgh's leading portrait painter, Henry Raeburn.
Viccy Coltman is a Professor of history of art at the University of Edinburgh. Her most recent book was Art and Identity in Scotland: A cultural history from the 1745 Jacobite uprising to Walter Scott, (Cambridge, 2019; paperback 2021). Her wartime book in preparation has been supported by fellowships from the Paul Mellon Centre for Studies in British Art and at the Anne S. K. Brown military collection at Brown University.
*The full event programme will be emailed to registered attendees in advance of the event.
PLEASE NOTE:
Venue
The event will take place at the University of Guelph in the University Centre (UC), RM 442. Attendees can access the UC North elevators to the 4th floor. The event is in-person and no portion of the programme will be livestreamed or recorded. Light refreshments will be provided.
Parking
Visitor parking is free on weekends at the University of Guelph campus. Visitors can access lots P31 and P44. Both lots are a short walk across campus to the UC. Parking directions, along with a campus map will be emailed to all registered attendees in advance of the event.
Vaccination Policy
The University of Guelph's COVID-19 Vaccination Policy was paused on 1 May 2022. Proof of vaccination is currently not required to access University spaces. The University retains its ability to reinstate public health requirements, if needed and with short notice.
Masking
The University of Guelph paused its mask requirement as of 1 July 2022, with masks no longer required indoors or outdoors at University facilities. Many community members will still choose to wear a mask while in University facilities. The University may reinstate its masking requirement at any time.
The event is supported by the Centre for Scottish Studies at the University of Guelph, the Research Centre for Scottish Studies at Simon Fraser University and the Social Sciences and Humanities Research Council Connections Grant program.