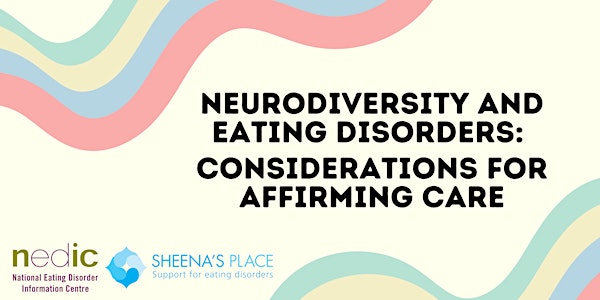 Neurodiversity and Eating Disorders: Considerations for Affirming Care
An introduction to neurodiversity-affirming care for people with eating disorders and disordered eating.
About this event
Many neurodivergent folks encounter barriers when accessing eating disorder care, leading to feelings of invalidation and discouragement which ultimately impacts their course of treatment. In this webinar, we will provide an overview of neurodiversity, explore its intersection with eating disorders, and offer examples of what neurodiversity-affirming eating disorder care could look like in practice. The goal of this webinar is to encourage practitioners and clients alike to consider neurodiversity's impact on the lived experience of eating disorders, and empower them to provide and advocate for more affirming care.
Presented by: Sophie Raniere (she/her), Registered Psychotherapist (Qualifying) & Josée Sovinsky (she/they), Registered Dietitian, Registered Psychotherapist
FAQs
Who is this event for?
This event is for anyone interested in learning about the objectives outlined above.
What platform are you using?
This event will be offered via Zoom.
How do I join the event?
Create an account at zoom.us, then download Zoom onto your computer, tablet, or phone. You will receive an email with the Zoom meeting link one hour before the start of the event. Keep in mind that other attendees will be able to view the name that you use to register for your Zoom account. Your name can be changed in your account settings.
Zoom is used for video conferencing. Do I have to turn on my camera?
No, camera and mic use is optional. You are welcome to just listen and participate to whatever extent you are comfortable with.
Will this event be recorded?
Yes. This webinar will be posted on Sheena's Place and NEDIC's YouTube channels at a later date. Attendee names and videos will not be recorded.
Will live captioning be offered?
Yes. To use this feature, you will be able to click "Live captioning" at the bottom of your screen in the Zoom meeting.
Will sign language interpretation be provided?
If you require ASL interpretation, please send an email to Canadian Hearing Services (interpreting@chs.ca) as soon as possible and provide them with the following information: event details, registration link, and Kaitlyn's contact information (Kaitlyn Axelrod; kaxelrod@sheenasplace.org).
How can I contact the organizer with any questions or accessibility requests?
Get in touch with Kaitlyn Axelrod (kaxelrod@sheenasplace.org or 416-927-8900 x330). We will do our best to accommodate your accessibility needs!
ABOUT OUR CO-ORGANIZER
The National Eating Disorder Information Centre (NEDIC) is a registered Canadian charity that has been helping Canadians affected by eating disorders since 1985. We operate Canada's only national toll-free helpline and instant chat program which provides support, information and referrals to individuals struggling with food and weight issues, as well as the families, friends, and professionals who care for them. With a focus on eating disorder risk factors, NEDIC delivers prevention-focused workshops to diverse audiences and facilitates professional development through our outreach and education program. Learn more at www.nedic.ca.