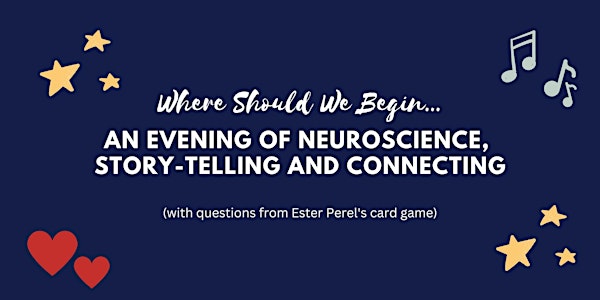 Neuroscience & Story-Telling: an evening for connection
An evening of short neuroscience teachings combined with small group story-telling chats to help spark a sense of authenticity & connection
When and where
Date and time
Sunday, December 11, 2022 · 6 - 7:30pm PST
Refund Policy
Contact the organizer to request a refund.
Eventbrite's fee is nonrefundable.
About this event
"The fact of storytelling hints at a fundamental human unease, hints at human imperfection. Where there is perfection there is no story to tell."
– Ben Okri, poet and novelist
Hello! My name is Stefanie Faye and I host a podcast called Mindset Neuroscience. I'm also a facilitator of interactive workshops to help people have insights into how our mind-brain-body systems help us optimize our wellbeing and functioning, as well as create deep and loving connections with others (and what happens that can get in the way).
A beautiful way we can do this is through story-telling.
Story-telling is an art and a way for us to use the magnificent machinery of our breath, voice, face and hands as tools to help others know what we are feeling deeply inside. The better we get at expressing that, the more regulated we feel, and the more creative and collectively intelligent we become. Stories point to patterns. They have arcs, ups, downs, conquering of inner and outer demons. Most importantly, they have choice points. Stories give us a chance to know about choices people have made and why. They paint context in richer detail.
In today's online world, there is a strong emphasis on surface level connection and groupthink. This evening is a way to help us feel an escape from that, and show up as ourselves, let others see us, and be present for others. We need more of this in-person, but this will be a way to connect with many of you that I may not get a chance to in-person.
We will begin the evening with a short 'Stefanie-style' science opener about stories.  I'll then introduce you to one question at a time (we may only get to 2 or 3), and send you into small groups to chat.  We'll come back from those groups, and hear some reflections, which I will interweave with what we understand about how this shows up in our hearts, breath, bodies, hands and voices and our capacity to say what we truly want to say, and feel understood, safe and connected to other humans.
This is more of an experiment for some things I'd like to explore with in-person, team- and partner-oriented events next year... so it will be pretty casual, and even if there's only a few people it will be worth it for 'data-gathering' 🙂
The ideas of using communication to help us regulate our nervous systems and amplify collective intelligence is also aligned with the book I am currently writing, about the Biomechanics of Human Communication and Attachment.
*** this is a very late notice invitation... I had this event published but had decided to postpone - and forgot to take it off Eventbrite! Someone just reserved a spot, so I thought I'd send this today, to see if anyone else is interested. If a few people RSVP, I'll hold this event tomorrow! It will be very informal (and I currently don't have much furniture due to moving, but I'll make do!***
You can learn more about me at stefaniefaye.com