About this Event
Description
Are you passionate about neurotechnologies? Whether you are a student, a researcher or a professional working in this fascinating field, this event is for you!
NeuroTechX (the largest global community focused on neurotechnology), in collaboration with Healthy Brains, Healthy Lives (HBHL) initiative, are putting together an exciting networking event where you'll be provided with a yearly recap of everything you should know about what happened in neurotechnology in 2019 around the world.
Come join us for the Montreal version of this exciting event which will also be happening in many other cities around the world!
Finally, this will be a great occasion to hear about HBHL and McGill neurotech-related initiatives!
Agenda
17h30: Doors Open + Networking
18h00: NeuroTechX + HBHL: Welcome remarks
18h20: Yannick Roy: Review of the Neurotech Industry around the world in 2019
18h55: Grad Students & PostDocs: Lightning talks
19h00: Break
19h15: Laurence Dumont: Review of Neurotech Research around the world in 2019
19h35: Amir Shmuel: The Quebec Platform for High-Field Brain Imaging
19h50: Closing remarks
20h00: Networking
21h00: Event Ends
** The event is now sold out (120/120 tickets), please reach out to mtl@neurotechx.com to be added to the waiting list **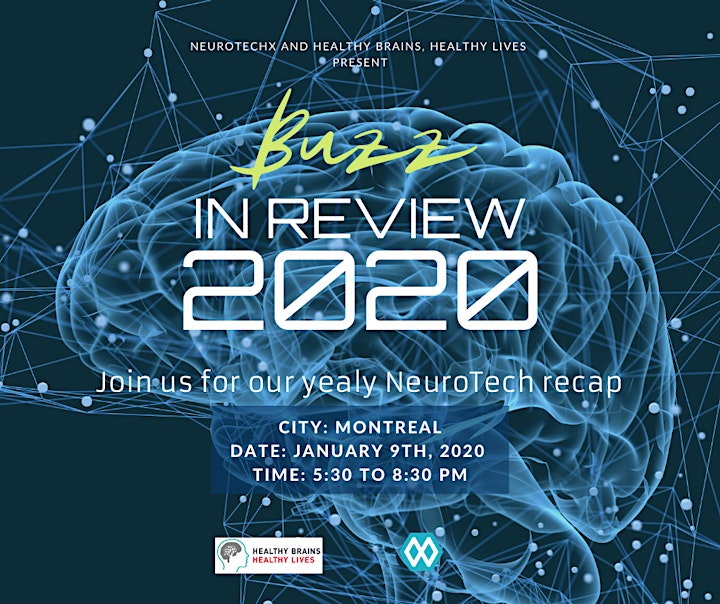 This event is brought to you by