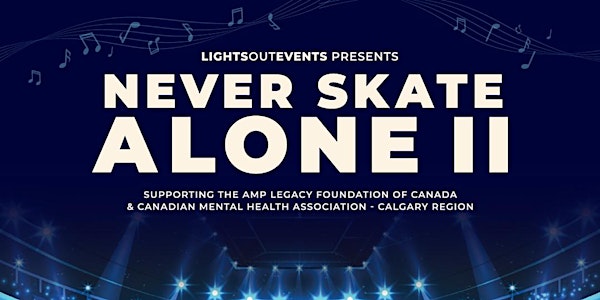 Never Skate Alone II: An Event for Mental Health
Location
Markin MacPhail Centre
151 Canada Olympic Road Southwest
Calgary, AB T3B 5R5
Canada
Never Skate Alone II: An Event for Mental Health
About this event
Since the Inaugural Never Skate Alone in 2019,, we can truthfully say that lives have been saved, changed, and opened up due to the awareness that was raised.
Lights Out Events is incredibly proud to announce Never Skate Alone II: An Event for Mental Health on June 25, 2022 at WinSport Arena A!
We're bringing back the music, the NHL alumni, the local presence, and most importantly, we're bringing a new level of fight towards the awareness of mental health.
Since the inaugural Never Skate Alone, we have heard so many life-altering stories of what this specific event has meant. Rarely does mental health fade away, and our presence - our fight - will not fade either. It's okay not to be okay, and you have a team behind you.
We are once again partnering with the Canadian Mental Health Association - Calgary Region, along with the AMP Legacy Foundation of Canada.
It's Okay Not To Be Okay. You'll Never Skate Alone.
$30 General Admission | $60 Full Experience (18+) | Children 10 and under are free
General Admission - Entry into Never Skate Alone
Full Experience: The official after party (18+) is being hosted at The Unicorn SuperPub.Your full experience tickets include a party bus from WinSport's Canada Olympic Park to The Unicorn and guaranteed entry to the after party with performers, players, and organizers!
Doors open at 5:00 PM at WinSport on June 25th via the Markin MacPhail Centre entrance.
There's also an option to donate, in-case you want to help out but are unable to attend.
#NeverSkateAloneII
Feel free to message us if you have any questions or if you'd like sponsorship information.
MC: Phill "Frenzy" Murphy
Performance #1: Michela Sheedy

Performance #2: Curtis Butala
Performance #3 Dapper Dav & Flow
National Anthem Performed by Joel Garcellano
Team White:
#4 - Tony Stiles (Calgary Flames Alumni)
#5 - Tanner Zaherie
#9 - Kelly Askew (professional alumni)
#10 - Billy Girling
#11 - Kevin Feigel
#12 - Craig Weller (Phoenix Coyotes & Minnesota Wild Alumni)
#13 - Kent Szoke
#14 - Darren Elliott
#16 - Shane Robertson
#24 - Mark Payne
#29 - Sean Selmser (Columbus Blue Jackets Alumni)
#33 - Matt Potter
#41 - Devon Fleck
#45 - Sean David
#55 - Jameson McIntosh
#63 - Ryan Earle
#89 - Jeremy King
#91 - Lali Toor (APNA Hockey School co-founder)
#21 - Stefan Migotti (Goalie)
Team Black:
#2 - Jeff Foster
#4 - Brad Layzell (President of AMP Sports Academy) 
#6 - Brendon Mikkelson (Anaheim Ducks, Tampa Bay Lightning, and Calgary Flames Alumni)
#7 - Tanner O'Neill
#9 - Carson Taylor
#11 - Shawn Getty
#12 - Meaghan Mikkelson (3x Olympic Gold Medalist on Team Canada's Olympic Hockey Team)
#15 - Matthew Powell
#19 - Dampy Brar (APNA Hockey School co-founder)
#21 - Mason Raymond (Vancouver Canucks and Calgary Flames Alumni)
#24 - Zach Carter
#26 - Matt Prelusky
#27 - Bob Bedler
#33 - Scott Reid
#34 - Adam Marcoux
#71 - Rob Butler (Professional Alumni)
#88 - Scott Annesley
#91 - Scott Towns
#93 - Zee Hamilton (Goalie)