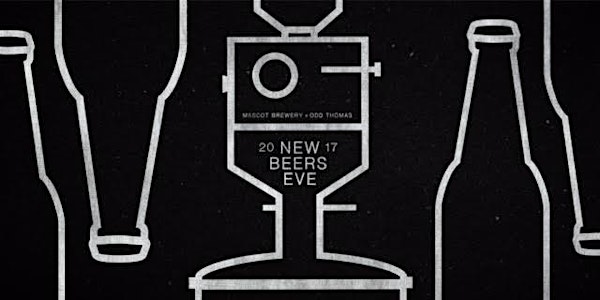 NEW BEERS EVE '17
When and where
Location
Mascot Brewery & Odd Thomas 31 Mercer Street Toronto, ON M5V 1H2 Canada
Description
On December 31st, Mascot Brewery and Odd Thomas will merge, offering two distinctive yet complementary vibes for revelers. On the ground floor, Mascot will be serving a 4-course prix fixe dinner prepared by Chef Rory McGouran and will flow right into the night's festivities, celebrating the new year with craft beers and cocktails. Just upstairs on the 2nd floor, you'll find yourself in a wild dance party in Odd Thomas with the drinks flowing and beats bumping. A casual flow between the two floors will give guests the opportunity to curate their ideal NYE celebration - ringing in the new year surrounded by incredible food, delicious beers and cocktails, DJ's, and others' who are looking to do something a little different this year.
Both floors will be decked out and pumping out great vibes with some of Toronto's finest. TRIBE and GRUMP will be spinning all night, playing your favourite hip-hop tracks new and old, while mixing it up to always keep you moving.
It wouldn't be NYE if there wasn't champagne at midnight, and Mascot Brewery and Odd Thomas wouldn't have it any other way as they will be providing complimentary champagne toasts as the clock strikes 12. Toasting to a new year, Mascot and Odd are anxiously waiting to celebrate with foodies and party-goers alike.
--------------------------------------------------------------------------------------
PRIX FIXE MENU
AMUSE
Quail Egg
Panko fried, seared chorizo and shaved fennel
FIRST COURSE
Salt Cod Fritters
Roasted tomato chutney, watercress and caper vinaigrette
OR
Pork and Beans
Maple glazed pork belly, navy bean cassoulet
OR
*Winter Green Salad
Radicchio, endive, frisée, pickled shallots, spicy candied pecans, and creamy cheddar dressing
MAIN COURSE
8oz AAA Striploin
Roasted shallot soubise, grilled treviso, king oyster mushroom, maple squash, spinach, and cipollini jus
OR
Seared Bass
Celeriac purée, honey mushroom, cauliflower, kale, finished with hazelnut brown butter
OR
*Potato Fennel Risotto
Crispy leek, basil oil and micro greens
DESSERT
Cheese Plate
3 offerings of Canadian cheese, paired with fruit compote, candied nuts and crisps
OR
Crème Brûlée
Lavender infused vanilla cream with toasted pistachio crust
* = Vegetarian option
PLEASE READ!
A few notes for dinner...
Should you be joining us for dinner, you can see that you purchase your ticket by actually selecting your seat on the floor map. We have tables of 4, 5, 6, 8 and 10. If you are dining alone or with 1 or 2 other people, we are more than happy to accommodate you with seats around the bar. Please choose an appropriate seat, in which you can fill all seats at your table entirely with your group.
There are two separate serving times for dinner, which are specified on each ticket. You will NOT need to give up your table after the 7:30pm seating. This is only to ensure the best possible service is provided and the most enjoyable experience for all guests. Please choose whichever time suits your needs best for the night and arrive on time.
Thank you.