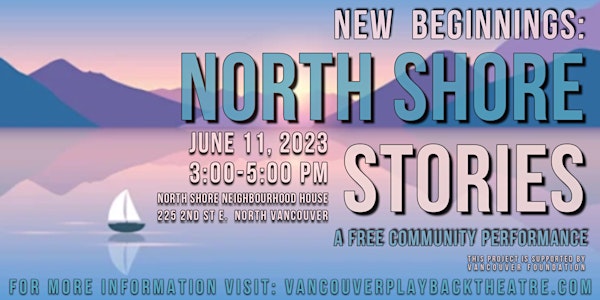 New Beginnings: North Shore Stories
Join Vancouver Playback Theatre for a FREE community performance where we "Playback" your stories using improvisation and music.
By Vancouver Playback Theatre
Date and time
Sun, Jun 11, 2023 3:00 PM - 5:00 PM PDT
Location
North Shore Neighbourhood House 225 2nd Street East North Vancouver, BC V7L 1C4 Canada
About this event
Join Vancouver Playback Theatre on June 11, 2023 for a FREE community performance at the North Shore Neighbourhood House, to share and witness the playing back of our personal North Shore Stories. All stories are welcome, from the serious to the humorous. It will be a great opportunity to connect and share with others during these challenging times.
Refreshments will be served.
Doors Open at 2:45 pm.
If you haven't yet seen one of our performances, we use sound, movement, text, music, and fabric to dynamically re-enact ("play back") stories/life experiences told to us by audience members. We also bring to life the universal themes that weave through these stories/experiences expressing our common humanity. Audience members often tell us they resonate with the stories played back, and feel supported in the knowledge that "we're in this together.
To find out more about Vancouver Playback Theatre, please visit:
www.vancouverplaybacktheatre.com
Special thanks to the Vancouver Foundation for providing us with the funding to make our performance possible.
About the organizer
Vancouver Playback Theatre helps individuals, communities and organizations develop and thrive by bringing people together to share stories, deepen dialogue, discover connections, and build positive relationships.
Using improvisation, intuition, movement and music, our troupe spontaneously re-enacts real stories from the lives of audience members. The "teller's" story is "played back" in dramatic, humours, imaginative and deeply moving ways. The universality of our human experience is illuminated, building bridges of empathy and understanding.