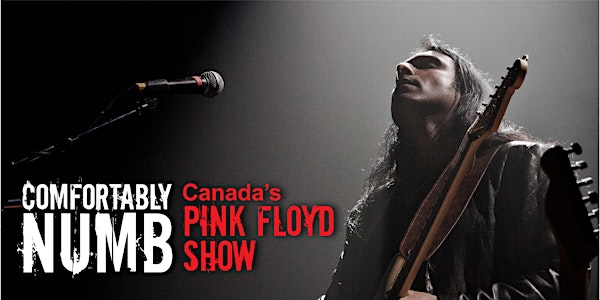 NEW DATE: Comfortably Numb – Canada's Pink Floyd Show: SHINE ON TOUR 2022
Presented by Algonquin Commons Theatre
Event Information
Performers
Location
Algonquin Commons Theatre
1385 Woodroffe Avenue, Building E
Building E
Ottawa, ON K2G 1V8
Canada
7:00 PM Lobby and Bar Open | 7:30 PM Doors Open| 8:00 PM Event Starts
About this event
Important Update
Due to the ongoing restrictions COVID-19 restrictions, Comfortably Numb – Canada's Pink Floyd Show has been postponed from Saturday, March 12th, 2022 until Saturday, April 2nd, 2022.
Vaccine Policy
Algonquin Commons Theatre requires anyone that accesses the venue to be fully vaccinated (including all ticket holders, guests, staff, artists, and crew). Details on our vaccine policy can be found here.
Ticket Details
The health and safety of our staff, patrons, and entire community remain our top priority. Due to the ongoing unprecedented pandemic of the Novel Coronavirus (COVID-19), The Algonquin Commons Theatre Box Office is closed for in person sales until further notice. Tickets will be available online for purchase.
$40.00 - $45.00 (plus applicable fees) - General Public
$35.00 - $40.00 (plus applicable fees) - AC Student
Reserved seating. Floor, Main, and Balcony Levels
Children aged 2 and under may attend the event at no cost (with no ticket), provided they sit on a parents' lap for the event
All tickets are final sale. No exchanges, upgrades, or refunds.
Accessibility
The Algonquin Commons Theatre is committed to providing universal accessible seating for all patrons. Please contact the Box Office by phone at (613) 727-4723 x6442 or via email at boxoffice@algonquincollege.com to reserve these seats and to enquire about companion seating. Learn more about accessibility options.
Bar Service
Bar service will be available for this event. Masks must be worn at all times while in the lobby and seating areas, except when eating or drinking.
Coat & Bag Policy
A coat check service will be available for this event. A $2.00 cash service fee will apply per item checked into the Algonquin Commons Theatre.
Parking
Paid parking is in effect at all times. Red Parking Lot 8 is the closest possible lot to our venue. Parking is a $5.00 flat rate on weekends and after 5pm on weekdays, (Lots 8, 9, 10, and 12). To view the parking lot map please click here. For a full list of parking rates please visit Algonquin College's Parking Website
Smoking
Algonquin College is a non-smoking campus. See the Algonquin College Smoke-Free Campus Policy for more details.
A Message From Algonquin Commons Theatre:
Due to changing Ontario government COVID-19 restrictions on physical distancing and the number of people permitted to gather together, the Algonquin Commons Theatre is unable to guarantee the full venue capacity will be available at the time of the event.
If government regulations require the venue capacity to be decreased for an event, ticket holders will be notified in advance by email. Attendance priority will be given in the order that purchases were made, and once capacity is reached, all other purchases will be refunded.
About this Event
Performing the Music of Pink Floyd since 1993 - Canada's Original Live Pink Floyd Experience!
After 5 sold out shows at the Algonquin Commons Theatre, Comfortably Numb makes their triumphant return to Ottawa. SHINE ON TOUR 2022 will celebrate the legacy of Roger Waters, David Gilmour, Rick Wright & Nick Mason.
Three Hour Concert... Come hydrated and ready to immerse yourself into the world of Pink Floyd.
A state-of-the-art interactive multimedia Laser, Video and Light show will bring fans that much closer to the live Pink Floyd Experience.
Since forming in 1993, Canada's Original Live Pink Floyd Experience, Comfortably Numb - Canada's Pink Floyd Show has earned the much-deserved reputation as one of the leading Pink Floyd tribute acts in the world. Brain Damage, the only fan website in the world recognized and supported by the members of Pink Floyd and Rogers Waters, have reviewed a Comfortably Numb concert as "Considered musically, one of the best in the world!"
Be part of Canada's Original Live Pink Floyd Experience, Comfortably Numb - Canada's Pink Floyd Show and find out what thousands of fans are calling the best Pink Floyd Experience in the world. And Proudly Canadian Too!
Comfortably Numb has sold out every time they've been to the ACT, BUY YOUR TICKETS NOW!
Performers
Date and time
Location
Algonquin Commons Theatre
1385 Woodroffe Avenue, Building E
Building E
Ottawa, ON K2G 1V8
Canada
Refund policy