[New Date: July 28th] Lakeshore Ride for Renewables

Sunday, July 28, 2013 from 11:30 AM to 2:30 PM (EDT)
Event Details
Join the Lakeshore Ride for Renewables
to explore local green energy projects by bike, with Sustainability Ontario Community Energy Co-op.

On July 28th, the public is invited to help launch one of the province's newest renewable energy co-operatives, Sustainability Ontario Community Energy Co-op (SOCEC) at the inaugural Lakeshore Ride for Renewables.  SOCEC will host a guided bike tour of existing renewable energy installations and potential community power projects in neighbourhoods along Toronto's western waterfront.  The ride is the co-operative's first official event and will provide an opportunity for residents to discover the possibilities of green energy in Ontario and to join the co-operative as a "founding 50" member.
 
The bike tour will meet at 11:30 am at the base of the wind turbine at Exhibition Place and depart shortly thereafter on a family-friendly bicycle ride westward along the Waterfront Trail and side streets into South Etobicoke. At various stops along the tour, SOCEC board members and sector representatives will provide insights into Ontario's continent-leading Green Energy Act and feed-in-tariff (FIT) program and present potential community power project sites the co-op is exploring, including what could be the province's first solar-on-brownfield and floating solar developments.

Admission in the ride is free although we do welcome donations and encourage participants to become members of the co-op. Those interested to join the co-op but who can't attend the ride can become a member by registering here as well or via our website at http://sustainabilityontario.ca/join.html.
Stay tuned on more news from SOCEC. Click here and add yourself to our mailing list.
Thank you to our sponsors!

Eclipsall Energy Corp. is a vertically integrated Canadian manufacturer of high performance PV modules based in Toronto, Ontario. Eclipsall Energy operates in a 165,000 sq. ft. facility with a current capacity of 70 MW with planned expansion to 250MW.

hb solar canada is driven by the needs of its customers and the vision of its founders. To date, hb Solar Canada has manufactured and delivered SCIROCCO® mounting systems for over 80 projects, with a combined capacity of over 15 MWp in Ontario and the U.S. In Europe, hb Solar has executed projects with a cumulative capacity of over 160 MWp.
Koenig & Consultants Inc. develops and implements sustainable strategies and sustainability strategies with a special focus on renewable energy solutions for the mining sector.
CanClone Services is the first printer in the GTA to install solar power - printing that doesn't cost the earth. Our 52 solar panels produce about 70% of all the electricity we use over the course of a year.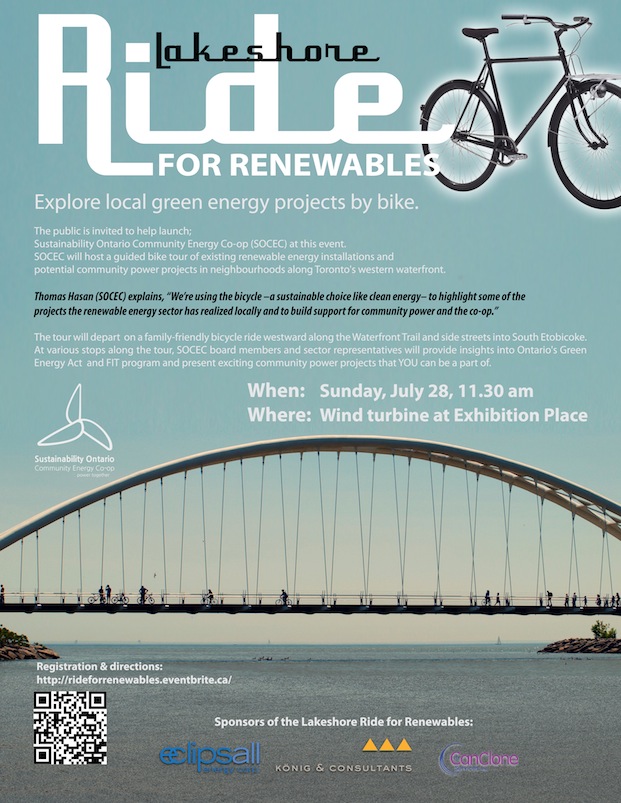 When & Where

Meet at the base of the wind turbine at Exhibition Place
210 Princes' Blvd
Toronto, ON M6K 3C3
Canada

Sunday, July 28, 2013 from 11:30 AM to 2:30 PM (EDT)
Add to my calendar
Organizer
Sustainability Ontario Community Energy Co-operative (SOCEC) is community power co-operative that consists of more than 60 members in the greater Toronto Area.  SOCEC was founded in 2012; the organization is managed by 10 elected volunteer board directors that advance the mission of the Co-op
Our Mission is to develop and promote renewable energy projects that have a  positive social and environmental benefit in our communities.
Our Vision is to empower communities with renewable energy
For more information go to www.sustainabilityontario.ca or contact us at info@sustainabilityontario.ca.