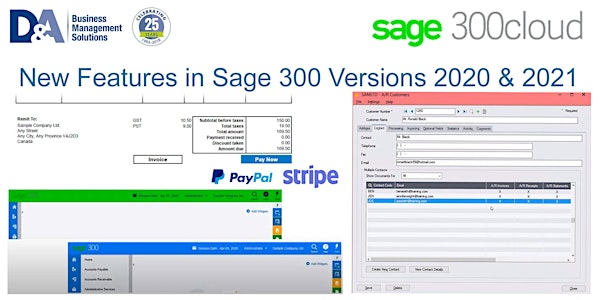 New Features in Sage 300 Versions 2020 & 2021
Join us in this webinar to see the newest features from the latest versions of Sage 300.
About this event
Since last summer we've seen two major releases of Sage 300, namely version 2020 and 2021 and two Product Updates to the 2020 release. In this webcast we'll take you through the new features for you to see the product's ongoing progression.
If you have recently upgraded or are thinking of upgrading to the latest editions of Sage 300 then this is a great session to attend.
Hope to see you there,
The D&A Team
Rejoignez-nous pour découvrir les dernières fonctionnalités des dernières versions de Sage 300.
Depuis l'été dernier, nous avons vu deux versions majeures de Sage 300, à savoir les versions 2020 et 2021, et deux mises à jour de produit pour la version 2020. Dans cette présentation, nous allons vous montrez les nouvelles fonctionnalités pour que vous puissiez voir la progression continue du produit.
Si vous avez récemment fait une mise à jour ou vous envisagez de le faire prochainement, c'est une excellente session à ne pas manquer.
On espère vous avoir parmis nous,
L'Équipe D&A