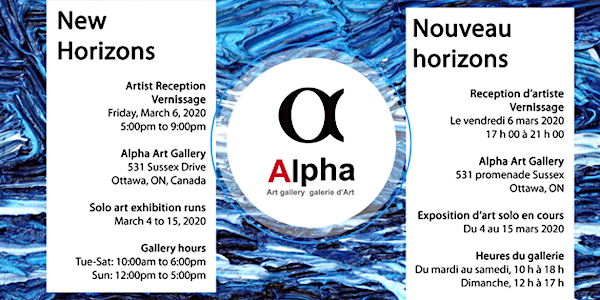 NEW HORIZONS • Vernissage • Nancy Brandsma @ Alpha Art Gallery (Solo Show)
New Horizons | Nouveaux horizons ••• This is Nancy Brandsma's first solo art show at Alpha Art Gallery in the Byward Market, Ottawa, ON.
When and where
Location
Alpha Art Gallery 531 Sussex Drive Ottawa, ON K1N 5S6 Canada
About this event
New Horizons
Life is constantly evolving. New opportunities present themselves at every turn, each with its own unique invitation. Which will you accept? 'New Horizons' is the result of just such an invitation -- to travel through landscapes of possibilities, to reveal inner potential yet to be explored. This series encourages the viewer to surrender to the beauty and strength of optimism at every turn.
Before embarking on any journey, it is worthwhile to pause and reflect on our personal priorities, so as to stay balanced. I have found that simplicity is vital. In these works, I capture my new horizon. Focusing on the monochromatic, without distraction, enabled me to experience a feeling of calm despite the textured sea of endless options.
Nouveaux horizons
La vie évolue constamment. De nouvelles opportunités se présentent à chaque tournant, chacune avec sa propre invitation unique. Lequel accepterez-vous? 'Nouveaux Horizons' est le résultat d'une telle invitation - voyager à travers des paysages de possibilités, pour révéler un potentiel intérieur qui reste à explorer. Cette série encourage le spectateur à s'abandonner à la beauté et à la force de l'optimisme à chaque tournant.
Avant d'entreprendre un nouveau cheminement (voyage, parcours, aventure), il vaut la peine de prendre une pause et de réfléchir à nos priorités personnelles, afin de rester équilibré. J'ai trouvé que la simplicité est vitale. Dans ces œuvres, je capture mon nouvel horizon. En me concentrant sur le monochromatique, sans distraction, m'a permis de ressentir une sensation de calme malgré la mer texturée d'options infinies.