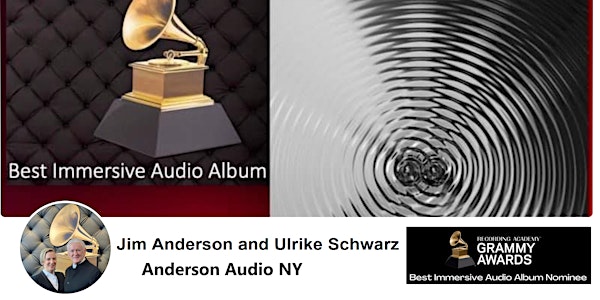 New Immersive and Surround Recordings by Anderson and Schwarz
Women artists are prominent in the latest immersive and surround recordings to be presented by Ulrike Schwarz and Jim Anderson
When and where
Location
Park St Gasworks 141 Park Street North Hamilton, ON L8R 2N4 Canada
About this event
Women artists are prominent in the latest immersive and surround recordings to be presented by Ulrike Schwarz and Jim Anderson of Anderson Audio New York.
Nataly Dawn's latest solo project "Gardenview – Immersive Edition" was mixed at Skywalker Sound and features 5 songs from Nataly's latest album.
The Grammy nominated "Picturing the Invisible: Focus 1" features soprano saxophonist Jane Ira Bloom in pandemic duet with percussionist Allison Miller, koto artist Miya Masaoka, and bassist Mark Helias. All of instruments were recorded in situ, offices, living rooms, and practice spaces, but in high resolution: 384kHz with Pryamix at all locations. The resulting efforts were mixed at Skywalker Sound.
Finishing out the session is their recording "Clique," also Grammy nominated, featuring Patricia Barber and her working band from Chicago playing "Barbered" standards as only she can interpret them.
The Andersons will also play music from the new Franco Ambrosetti album "Nora."
Anderson and Schwarz will be open for questions during the session.
There are two sessions for the presentation: 7:00 PM & 8:30 PM. The 7:00 pm session is currently sold out.
Meet and Greet with Refreshments
Before or after each event session, you can catch up with other AES members and guest attendees at the Gasworks.
Thank you Genelec for providing the refreshments!
About the Hamilton Music Collective
Check out this really cool initiative in the Hammer!
Our hosts: https://hamiltonmusiccollective.ca/
The venue: https://www.thegasworks.ca/