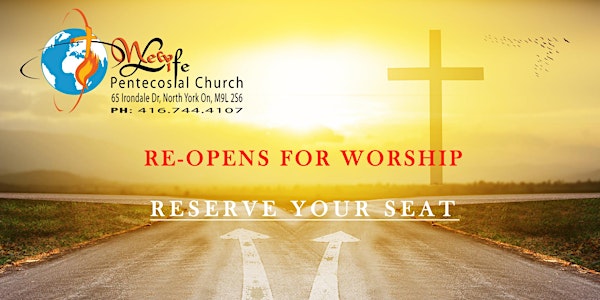 NEW LIFE PENTECOSTAL CHURCH REOPENING
Welcome to New Life Pentecostal reopening! Your registration will help us prepare for you.
When and where
Location
New Life Pentecostal Church 65 Irondale Drive Toronto, ON M9L 2S6 Canada
About this event
Greetings New Life Family and Friends!
We trust that God has kept you and your family safe during these uncertain times. We are pleased to announce that our church building will reopen on Sunday March 21, 2021. We look forward to this great opportunity to worship together again. We have taken measures to ensure that our sanctuary is safe for worship.
We look forward to seeing you on Sunday March 21, 2021!
God Bless You!
New Life Pentecostal Church
To ensure a safe and orderly reopening, we ask that you kindly review the guidelines below:
• SERVICE TIMES
• SIGNING UP FOR SERVICES
• SIGN IN PROCEDURES & PROTOCOLS
• EXPECTATIONS AND YOUR RESPONSIBILITY
SERVICE TIMES:
Sunday Morning @ 10:30am and Wednesday Bible Study @ 7:30pm
To accommodate those who are unable to attend, services will be accessible on Zoom
SIGNING UP FOR SERVICES:
Due to limited space, we kindly ask that you register for Sunday and Wednesday services. These spaces will be available on a first come first serve basis. Registration for services will open at least one week prior to the service date. We encourage everyone to register early!
SIGN IN PROCEDURES & PROTOCOLS:
Only those who have secured registration will be able to attend services on location at New Life Pentecostal Church. Alternatively, services can always be attended via Zoom. If you have successfully registered we advise you to arrive at least 30 minutes prior to the start of the service as there will be a screening process in place to gain entry. Access into the building will be at the front doors only.
EXPECTATIONS AND YOUR RESPONSIBILITY:
1. Please wear a mask or face covering at all times while in the building. In addition, you will be required to sanitize your hands as soon as you enter the building.
2. Before entering the building each person's temperature will be taken. Anyone with elevated temperature will not be permitted to enter or attend the service.
3. Please be on time, as the front doors will close at the start of the service.
4. Inside the sanctuary, physical distancing of 2m/6 feet apart must be adhered to at all times and by all attendees.
5. Ushers will direct attendees to their seats.
6. Baptisms can be scheduled at an arranged time.
7. Members and guests who are not comfortable with attending services in person may continue attending by way of Zoom. Please see details at http://www.newlifeupc.ca/latestNews.html.
8. If you are ill with a cough, a fever or any other flu-like symptoms, please stay home. If you are immune compromised or are a part of the vulnerable population (i.e., elderly and children under 2 years old) please stay home and stay safe.
9. Children 12 years and under are encouraged not to attend service in the first phase of church opening.
10. Sunday School will continue on the zoom platform every Sunday morning at 9:30 am until further notice.
If you have any questions or concerns please give us a call at 416-744-4107.
Let's all work together to make our reopening a safe and successful one!
God's Grace and Richest Blessings to You!
New Pentecostal Church Admin.