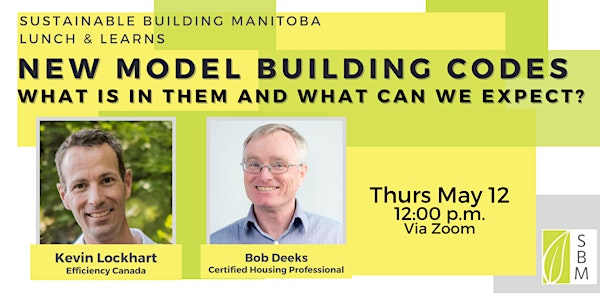 New Model Building Codes - what is in them and what it means for you.
Refund policy
Contact the organizer to request a refund.
Eventbrite's fee is nonrefundable.
The latest building codes came out in March. What is in them? Are there lessons we can learn about their implementation?
About this event
Curious to know what is actually in the codes?
Join to hear from Kevin Lockhart, Efficiency Canada's Research Manager focusing on Codes to dig into their content and what you can expect. Have not had time to read through them yourself or have questions? Kevin can help!
Curious to know more about some of the highs and lows of a change in code?
Join to hear from Bob Deeks, a Certified Housing Professional in Whistler BC who went through the whole process when BC recently implemented their Energy Step Code. Learn from Bob's experiences!
Canada's 2020 model building codes are ready for provincial/territorial adoption. What do Manitoban's need to know about Canada's first national tiered building codes? How do these codes differ from conventional codes? And,what can we do to lay the groundwork for successful adoption and compliance?
We are currently in a "regulatory moment" where an unprecedented amount of commitment, ambition and action is coalescing around building codes as a tool for quickly cutting energy/emissions. The time is now for advocates, industry, and all levels of government to work together to accelerate energy/carbon reductions and set each building on a path to net zero.
Special pricing for Offices - a great chance to set up in your board room to participate in learning and to build collaboration within your team.
SPEAKERS
Kevin Lockhart - Efficiency Canada
As Efficiency Canada's Research Manager, Kevin provides insight into federal/provincial/municipal regulatory environments, building science, as well as the challenges and opportunities related to the market transformation of the buildings sector including those related to supply chains, financing, and workforce development. In addition to being an active member of several community organizations, Kevin is also a board member with Retrofit Canada.
Bob Deeks - RDC Fine Homes
Bob Deeks works as a President at RDC Fine Homes, which is a Commercial & Residential Construction company. RDC is committed to delivering a uniquely positive experience in the construction or renovation of high-performance homes.