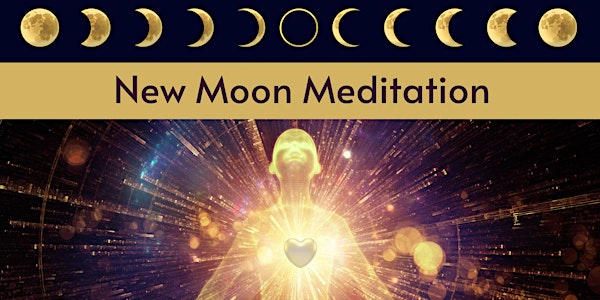 Multiple dates
New Moon Meditation and Distance Healing
New Moon Meditation and Distance Healing Online Event. Open to everyone, non-denominational live-channeled meditation.
Date and time
Mon, Feb 20, 2023 7:00 PM - Tue, Dec 12, 2023 8:30 PM PST
Refund Policy
Contact the organizer to request a refund.
Eventbrite's fee is nonrefundable.
About this event
New Moon Meditation and Distance Healing Online Event
The New Moon is a time of new beginnings, freshness, and rejuvenation. Sometimes we just need a moment of peace for ourselves. Or perhaps there is something you're holding onto and would like to set free? Is there something you've been thinking of starting or envisioning? Is there something in your life or body that needs new light and new energetic flow? Giving these things Intention and Light Energy can spark whole new potentials. When we gather to meditate together, the results are Powerful and Exponential!
Trisha will guide you in a live-channeled Healing and Rejuvenating Light Activation Meditation. Each event carries its own theme and the healing experience is revealed at the start of the meditation.
About Trisha:
Trisha has been meditating for most of her life, since early childhood. In the last 20 years of her adult life she has adapted her practice as she forged her own spiritual path.
"Our journey into self is never really over, it is a further deepening in understanding over our entire lifetime." Trisha has specifically been honing her connection to her Higher Self and Guardian Angels over the last 10 years. One of her greatest joys is Guided Meditations. Since they are live-channeled, it is always a surprise as to what will come through for the group in real time! Trisha treats every meditation with great honour and recognises that it is a privilege to hold space for a community.
Aside from her lifelong meditation practice, Trisha is a certified Teacher and Practitioner in Energy Healing. As well as a Facilitator of programs and retreats in self empowerment, personal growth and spiritual advancement. www.trishacrampersad.com
I am looking forward to sharing with you in love and joy. :)
These are the dates for the 2023 New Moon Meditation Events (all dates and times are in Pacific Standard Time):
Jan. 22 - 8:30am
Feb. 20 - 7:00pm
Mar. 21 - 7:00pm
Apr. 19 - 7:00pm
May 19 - 7:00pm
Jun. 18 - 8:30 am
Jul. 17 - 7:00pm
Aug. 16 - 7:00pm
Sep. 14 - 7:00pm
Oct. 15 - 8:30am
Nov. 13 - 7:00pm
Dec. 12 - 7:00pm
Please note for the New Moon dates that fall on a Saturday night, they will be held on the Sunday morning at 8:30am.
If you plan ahead and think you will be able to attend most of these meditations, then I advise you to purchase the ticket for all the 2023 dates (annual ticket). Even if you miss 2 events, you still save in a big way! 🙂