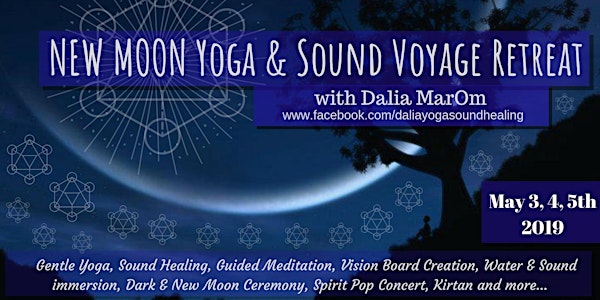 New Moon Yoga & Sound Voyage Retreat
When and where
Location
Sur Les Toits Du Monde 215 Chemin des Sommets Sainte-Catherine-de-Hatley, QC J0B Canada
Refund Policy
Contact the organizer to request a refund.
Description
Since ancient times the ritual of the new moon has been a time to go within, recharge and reset our mind, body and spirit. Its a time of rest, a gap, a pause before the next cycle begins. This is the perfect time to find your inner silence, shift from movement to letting go, receiving and slow down before the birth of something new, before that next moment of creation. This time signifies a moment to get in touch with our higher selves, reawaken our deepest desires and unlock the wisdom of our souls. This is the right time to connect with source, rejuvenate and allow pure magic to enfold.
Step into a mystical healing oasis at the beautiful Sur Les Toit du Monde Spa in St Catherine de Hatley, Quebec (1.5 hours from Montreal). Join Dalia MarOm (Yoga, Sound Healing, Music) for a magical weekend of self love, manifestation, rejuvenation, relaxation, emotional release, creativity, laughter, fun and peaceful vibrations as we journey through a variety of healing practices to create positive intentions for our lives in honor of the New Moon.
Shared Room: 2-4 people 399$ ( 4 places available)
Single Private Room: 449$ ( 2 rooms available)
To reserve your spot please submit the 200$ Non Refundable Deposit. Final payment is due March 31st
***Prices include accommodations, all meals and activities***
Please bring bathing suit, crystals, notebook, pen, your intentions, and a few of your favorite magazines for your vision board.
8:30-10pm Opening Circle & Dark Moon Releasing ceremony
8-9:15am Morning Yoga & Sound Healing
11-1pm New Moon Meditation Ceremony and Vision Board Workshop
3-4pm Water & Sound Immersion (Indoor Pool Heated Pool)
8pm Spirit Pop concert and Kirtan (with special musical guest
Rad Crasto (Producer of Lea Longo, Patrick Bernard)
8-9:15am Yoga & Sound Healing
10-12 Free time to write, swim, walk, relax.
12-1pm Nature Walk and Meditation
Dalia has been practicing yoga for over 13 years and completed her yoga teacher training in therapeutic yoga with Dr Madan Bali in 2014. She has since studied Yin, Yoga Nidra, shamanism and numerous forms of sound healing with a variety of experts in the field and is also a Unitary Reiki of Sound Practitioner and channels love, light and healing through vocal chants and harmonies. Dalia has lead hundreds of yoga and sound healing sessions, events and retreats in around her home town of Montreal as well as on the international level in the US (Omega Center) and Mexico (Omni Hotel), Costa Rica (Posada Natura, Spa Holis, Selina's and Casa Lina's). She has also worked extensively with her Guru Dr Madan Bali co-leading various events and retreats. Her unique sessions incorporate a therapeutic blend of Yoga (Dr Bali Method, Nidra, Yin, Hatha) pranayama, guided hypnotic visualization, meditation as well as various sound healing instruments including: Tibetan bowls, crystal bowls, tingshas, rattles, frog drum, bird flute, gongs, shamanic drum, ocean drum, Crystal pyramid, Idiopan drum in 432 hz (healing frequency of the earth), spirit drum (432hz) and vocal chants channeling light, love and healing.
Besides guiding sessions, Dalia is a trained actress who graduated from Concordia University's Drama for Human Development Program and is also a singer songwriter who is currently working on her 2nd album entitled 'Light Years Away' that is set to be launched in spring of 2019. The album is in the 'spirit pop' genre inspired by spiritual messages and sound healing. It was recorded in 432hz and was produced and co-written by Rad Crasto (Lea Longo, Patrick Bernard). For more info about Dalia and upcoming events please visit Dalia's website and Facebook page.
www.facebook.com/daliayogasoundhealing
Depuis les temps anciens le rituel de la nouvelle lune a été un temps pour aller à l'intérieur et de recharger et de réinitialiser notre esprit, le corps et le cerveau. C'est un temps de repos, un espace, une pause avant le prochain cycle commence. Un profond silence avant la tempête, avant la naissance de quelque chose de nouveau, avant ce moment de création. Il signifie un temps pour entrer en contact avec nos êtres supérieurs, réveiller nos désirs les plus profonds et commencer à paver le chemin vers une meilleure santé, le bien-être, le bonheur et la plénitude.
Entrez dans une oasis de guérison mystique au magnifique spa Sur Les Toit du Monde à Sainte-Catherine-de-Hatley, au Québec (à une heure et demie de Montréal). Rejoignez Dalia MarOm (Yoga, guérison par le son, musique) pour un week-end magique d'amour, de manifestation, de rajeunissement, de relaxation, de libération émotionnelle, de créativité, de rire, d'amusement et de vibrations pacifiques alors que nous parcourons diverses pratiques de guérison afin de créer des intentions positives pour nos vies en l'honneur de la nouvelle lune.
Chambre partagée: 2-4 personnes 399 $ (4 places disponible)
Chambre privée individuelle: 449 $ (2 chambre disponible)
Pour réserver votre place, veuillez soumettre le dépôt de 200 $ non remboursable. Le paiement final est dû le 31 mars
*** Les prix comprennent l'hébergement, tous les repas et les activités ***
Les arrangement de paiement peuvent être faites. Veuillez envoyer un email à info@daliamarom.com pour discuter des possibilités.
Veuillez apporter votre maillot de bain, vos cristaux, votre cahier, votre stylo, vos intentions et quelques-uns de vos magazines préférés pour votre tableau de vision.
20h30 - 22h00 Cérémonie d'ouverture et cérémonie de la Lune Noire.
8h-9h15: Yoga matinal et guérison par le son
11h-13h Cérémonie et méditation Nouvel Lune et atelier du tableau de vision
15h-16h Immersion dans l'eau et le son (piscine chauffée d'une piscine intérieure)
20h Concert Spirit Pop et Kirtan (avec invité musical spécial
Rad Crasto (Producteur de Lea Longo, Patrick Bernard)
8h-9h15: Yoga et guérison par le son
10-12 Temps libre pour écrire, nager, marcher, se détendre.
12h-13h Promenade dans la nature et méditation
14-15h Cérémonie de clôture
Dalia pratique le yoga depuis plus de 13 ans et a achevé sa formation de yoga thérapeutique avec Dr Madan Bali en 2014. Depuis, elle a étudié le yin, le yoga nidra, le chamanisme et de nombreuses formes de guérison par le son avec de nombreux experts en la matière. Dalia est également un pratiquant du Reiki du son unitaire et elle canalise l'amour, la lumière et la guérison par le biais de chants vocaux et d'harmonies. Dalia a dirigé des centaines de séances de yoga et de guérison sonore, ainsi que des événements et des retraites dans sa ville natale de Montréal ainsi qu'au niveau international aux États-Unis (Omega Center) et au Mexique (Omni Hotel), au Costa Rica (Posada Natura, Spa Holis , Hotel Selina et Casa Lina's). Elle à également beaucoup travaillé avec son guru Dr Madan Bali et à co-dirigé divers événements et retraites. Ses séances uniques incorporent un mélange thérapeutique de yoga (méthode du Dr Bali, Nidra, Yin, Hatha), pranayama, visualisation hypnotique guidée, méditation ainsi que divers instruments de guérison sonores incluant: bols tibétains, bols en cristal, tingshas, hochets, tambour de grenouille, flûte d'oiseau , gongs, tambour chamanique, tambour océanique, pyramide de cristal, tambour Idiopan à 432 hz (fréquence de guérison de la terre), tambour spirituel (432hz) et chants vocaux canalisant la lumière, l'amour et la guérison.
En plus de guidée les séances, Dalia est une actrice diplômée du programme de théâtre pour le développement humain de l'Université Concordia. Elle est également une chanteuse-auteur-compositeur et interprète. Elle travaille actuellement sur son deuxième album intitulé «Light Years Away», qui va être lancé en 2019. L'album est dans le genre "pop esprit" inspiré par des messages spirituels et de la guérisons sonores. L'album à été enregistré en 432hz et a été produit et co-écrit par Rad Crasto (Lea Longo, Patrick Bernard). Pour plus d'informations sur Dalia et les événements à venir, veuillez visiter le site Web de Dalia et sa page Facebook.
www.facebook.com/daliayogasoundhealing