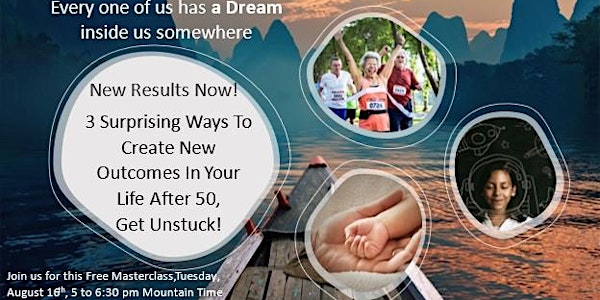 New Results Now: 3 Surprising Ways To Create New Outcomes In Your Life
I'm here to tell you that you can get unstuck and create results you are in love with!
About this event
Do you have things you want to achieve but feel stuck and don't know where to start?
Or maybe you have a Dream that you'd love to achieve, but it just hasn't happened yet?
Or, perhaps you've enjoyed success, but you're just not feeling the fulfillment in your life that you'd love?
I'm here to tell you that you can get unstuck and create results you are in love with! My clients are not only achieving their dreams, but many have far exceeded what they thought was possible.
Marc was hired to his Dream Job just one year after graduating from University, despite people close to him saying it was impossible. "The most important decision I made was to say YES." ~ Marc L.
Simona, was coping with a chronic illness for decades. Now, she's feeling healthier and more at peace in her life. "Gael, helped me identify what I wanted to experience . . . then offered a step-by-step road map, and ongoing support to keep me focused and moving forward with my goals." ~ Simona H.
Deb was longing to travel. She just got back from a trip to Iceland with her husband. "We are truly blessed." ~ Deb B.
Now it's your turn!
Join me on Tuesday, August 16th at 5:00 pm Mountain Time for a free Masterclass where you'll learn the essential new skills to make new results happen.
At this Masterclass you will:
- Learn how we create our results.- Learn a simple, yet powerful question that frees you to begin creating a life you absolutely love.- Get much clearer on your Goals and your Dreams.- Learn how to shift your mindset, for more confidence and focus.- Learn a powerful tool that will help move you forward to greater results, even when fear and doubt have been keeping you stuck.
You will leave the workshop feeling inspired and more empowered to make positive changes in your life.
Join my growing list of clients who are now thriving and moving forward in their lives, despite their challenges.
I would love to see you there!
Believing in You,
Gael