Event Information
Location
Carleton University
1125 Colonel By Drive
TBD
Ottawa, ON
Canada
Description
New Space Opera Writing Workshop
This is a hands-on writing workshop open to everyone who would like to write a good old-fashioned pulp space opera science fiction story. No experience necessary... all you need is desire to have a lot of fun story-telling in one of the newest and most popular subgenres today.
In this particular workshop, we will review those key elements of space opera - written in the 1930s - 1950s - that made these stories so much fun to read (and write!). Bug-eyed monsters, rocket ships and ray guns, giant jovian humanoids, western-style saloons in martian outposts... these are just a few.
Writing Your Story
You'll write your own space opera short story and it will be part of a special publication. During the workshop, you will benefit from weekly writing exercises, class discussions of your material, my own professional editing, and one-on-one engagement so that your story comes to life.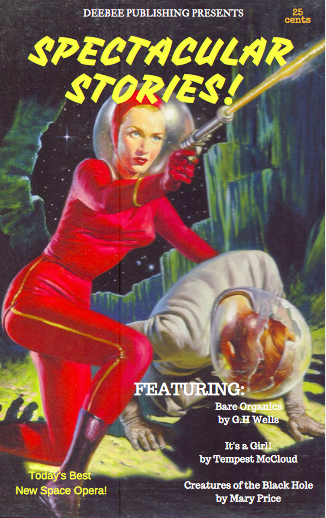 We will be meeting every Thursday evening in January starting Jan 11 (4 times in all).
At the end of the workshop, your story will be published in my own independent New Space Opera Anthology and made available to the public through Amazon. And of course, royalties from all sales will be distributed to all writers.
The modest fee for the workshop covers my time and room rental costs, plus you also receive one (1) free copy of the Anthology and have lifetime access to my writers Facebook group.
My Personal 100% Money Back Guarantee
I know I can help you - regardless of your experience - become a better writer. If you're not completely satisfied with the workshop, I will return 100% of your registration fee. No questions asked. It's as simple as that.
Attendance is limited, so register right now.
See you there!
David




Refund and Intellectual Property Policy - Please Read
When you sign up for this workshop, you agree to and understand the following:
any stories, story ideas, character ideas, or anything related to the development of fiction in the workshop remain the intellectual property of the individual participant

full refunds will only be issued up to 7 days before the workshop takes place. After that, no refund will be issued for any reason, including but not limited to personal issues, schedule conflicts, or illness. This is necessary to ensure that the costs I have to commit to personally with respect to room rentals, equipment rentals, materials and other expenses are covered.
What Others Are Saying About My Workshops
"Thank you! Wonderful, useful and welcoming!"
"Great session!"
"I really enjoyed the class. I learned a lot. I would have liked an even longer session as I really enjoyed everything we learned today. Thanks!"
"The writing exercises were fun and motivating."
"Best practical 'How To' guidelines to writing and revising"
FAQs
Are there ID or minimum age requirements to enter this workshop?
No. Anyone, regardless of age, is invited to write!
I'm more interested in writing horror. Can I still participate?
This particular workshop focuses on science fiction space opera. But lots of other workshops are also being offered. Scroll down to the bottom of this page to see what else is coming up.
What are my transportation/parking options for getting to and from the event?
The #7 and the #4 and O-train all serve Carleton University. There is also parking available in the evenings but unfortunately, you have to pay for that.
What can I bring into the workshop?
Bring any story ideas you're working on. If you haven't started anything yet, that's okay because we'll be generating all kinds of ideas. You will have an awesome story by the end of the workshop. Bring your laptop or writing pad. Bring your enthusiasm!
How can I contact the organizer with any questions?
Send me an email at davidallanhamilton00@gmail.com
What's the refund policy?
If, after the first evening, you really don't want to have your story published, then I will refund your money MINUS $20 to cover my time.
I have to work on Thursday nights. Is there a way I can still participate?
Absolutely! Just sign up and then we'll work on your story together online using all the tools available to us: skype, google docs etc. You will benefit from feedback and comments and be an active participant.
I can't make the workshop but I have a story already that I'd like to include in the publication. Can I just do that?
I normally charge $250 to professionally edit a story up to 5,000 words. So if want to include your story but cannot participate, email me and we can discuss doing this for a fee.
Date and Time
Location
Carleton University
1125 Colonel By Drive
TBD
Ottawa, ON
Canada