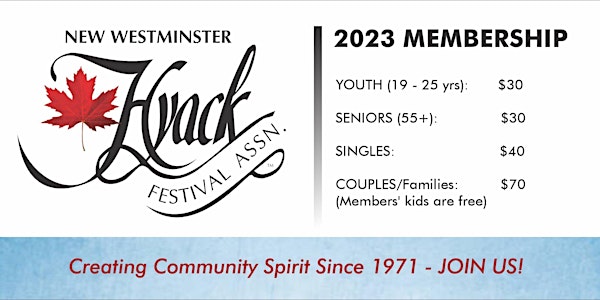 New Westminster Hyack Festival Association 2023 Membership
Become a member or renew your membership to the Hyack Festival Association. (November 1, 2022 to Oct 31, 2023) It's our 52nd year!
By Hyack Festival Association
Date and time
Wed, Feb 1, 2023 4:00 PM - Tue, Oct 31, 2023 5:00 PM PST
Location
Hyack Festival Association 204 Sixth Street New Westminster, BC V3L 3A1 Canada
About this event
Become a member or renew your membership to the Hyack Festival Association. (November 1, 2021 to October 31, 2022)
What are the benefits of membership?
As a leader in community engagement, we'd love to welcome you (or welcome you back) as a member of one of New Westminster's longest-running non-profit, charitable organizations. For over 50 years we've been raising the spirit of community as we work to enrich the lives of our citizens in the Royal City and beyond. JOIN US!
If you have a desire to contribute to the New Westminster community for the betterment of all, then membership confirms your willingness to be involved and take part in the various events and activities of the association.  Wholehearted support and involvement in civic activities and celebrations of the business community, schools, organizations, institutions, and individual citizens, is the ultimate goal of the New Westminster Hyack Festival Association.
As a member of the Hyack Festival Association you will:
meet and work with people of diversified interests and occupations.
have an opportunity to become involved in community activities and celebrations.
be invited to attend events and festivals in many other cities.
be involved in the social get-together's of the association through which you will make many acquaintances and friendships.
have the opportunity to stimulate and add to the quality of life in your community
get discounts on market space at our events if you are a vendor
Receive our regular newsletters and email event updates
There are membership categories for singles, couples, and families, with discounted rates for seniors and youth (19-25).
About the organizer
The Hyack Festival Association works to enrich the community of New Westminster and beyond through world-class festivals and co-operative events in which the community can participate and take pride.
Throughout the year, we organize events and projects that generate community spirit including our New Westminster Hyack Ambassador Leadership Program, the International Parade and the Canada Day Fireworks on the Quay. Hyack Festival Week, held in New Westminster each May and culminating with the International Parade, has grown to become one of BC's largest and most well-loved festivals, and is celebrating its 52nd Anniversary in 2023.

The greatest impact our events have is building the 'Spirit of Community' and provide entertainment and community engagement that is truly inclusive, intergenerational, diverse and multicultural.
We acknowledge that we live and work on the unceded, traditional territories of the Coast Salish peoples of the QayQayt (qiqéyt) Nation as well as all Coast Salish Nations.