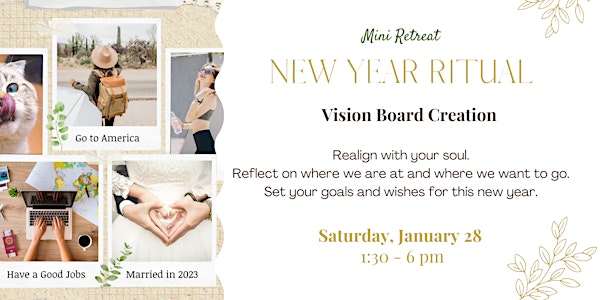 New Year Ritual - Vision Board & Soul Connection Workshop
Happy New YOU!!!! 2023: Time for a New Start! Join us for this beautiful mini retreat to SHARE, REFLECT, RELEASE, CONNECT and CREATE.
When and where
Location
Capoeira Ache Brasil Academy 341 E Broadway Vancouver, BC V5T 1W5 Canada
About this event
4 hours 30 minutes

Mobile eTicket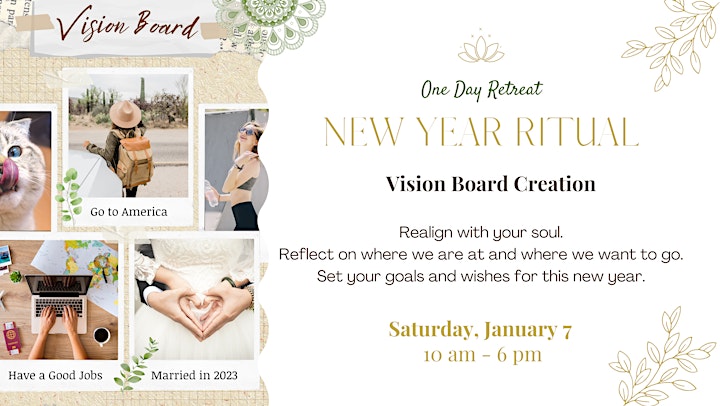 *** You can send the payment via etransfer at anna.souljourney@gmail.com to avoid any additional fees***
WELCOME BEAUTIFUL SOUL :-)
Do you have dreams and would love to start manifesting them ?
Are you curious about Vision Board and have always wanted to create one ?
Would you like to create a Vision Board from your Soul rather than your mind ?
You are in the right place :-)
MINI RETREAT OVERVIEW
Join Anne-Claire for the perfect getaway to transition into this New Year, 2023.
During this half-day retreat, Anne-Claire will take you on a powerful journey to close 2022 and open 2023 with endless possibilities.
We will co-create a beautiful sacred space for divine sharing and deep healing. In this safe and loving environment, we will SHARE, REFLECT, RELEASE, CONNECT and CREATE.
DURING THIS DAY RETREAT, YOU WILL:
❤ Reconnect with yourself, welcome this new year and be grateful for 2022
❤ Acknowledge everything you've done until now
❤ Close chapters of your life and finish a cycle
❤ Reflect on where we are at and where we want to go.
❤ Reinforce the connection with your soul
❤ Set goals in alignment with your higher self
❤ Create Your VISION BOARD which will support you throughout the year
❤ Receive Spiritual Guidance and Energy Healing
❤ Connect with like-minded people
" Creating a Vision Board is like magic. I connect to my Soul. I allow myself to dream; then I let my hands, the magazines and life guide me and give life to a vision I am not even always aware of. "
THE AGENDA
Welcoming Circle
Guided Meditation - Ground Yourself + Clear Your Energy
Group Sharing, Introductions
Process To Support You In Releasing 2022
Express Your Gratitude
Journaling + Self-Inquiry
Group Sharing
Yoga Nidra "Journey To Yourself"
Vision Board Creation 2023
Closing Circle
The fresh energy from the full moon will help us to go through that process!
It's time to finally create your Vision Board to manifest the life you want!
Your Vision Board acts as a visual representation of your goals and dreams.
WHAT YOU WILL RECEIVE FROM THIS HALF-DAY RETREAT:
✨ Clarity on what you really want deep inside of you
✨ Disconnection from your daily life and reconnection to yourself
✨ Space and time to connect to your vision
✨ Identify what you must give up to make space for your dream
✨ All the tools and time to create your own powerful Vision Board
✨ Supportive container & heart-opening conversations
✨ Connection with like-minded people
WHY CREATE A VISION BOARD ?
1) A Vision Board helps you clarify what you REALLY want
2) It helps set your intention - Your success begins with your intentions
3) It fosters motivation - it regularly makes you think about what you want to achieve, accelerating your drive to give life to it
4) Promotes focus - with a vision board, you are able to keep your focus on your goals
5) It works :-)
GENERAL INFORMATION
WHEN
Saturday, January 28 | Time: 1:30 - 6 pm
Doors will be open at 1:15 pm. Please arrive promptly to allow time to settle in.
WHERE
Capoeira Ache Brasil Academy
341 E Broadway, Vancouver, BC V5T 1W5
EXCHANGE
Early Bird Rate $ 95 (before January 15)
Regular Rate $ 125
(you can also e-transfer to anna.souljourney@gmail.com to avoid Eventbrite fees)
No drop-ins, pre-ticket purchases only.
Please contact Anne-Claire directly if you need financial assistance to attend the retreat.
WHAT TO BRING
- Meditation pillow to sit on
- Yoga Mat (optional)
- Your favourite blanket
- Water bottle
- Journal + pen
- A stack of at least 10 magazines which speak to you (if you can)
- Something to cover your eyes during the Yoga Nidra (optional)
SAFETY
Do not attend if you are feeling unwell or have any flu-related symptoms.
Sanitize or wash your hands upon arrival.
Please share the space respectfully and check in before hugging or touching another person.
Masks are optional.
REFUND POLICY
No refund would be issued, but a credit can be given toward future events.
Thank you for your understanding.