Description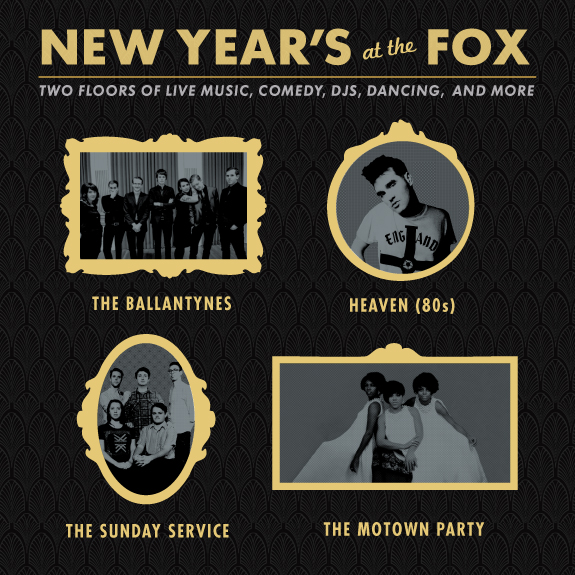 The Fox Cabaret invites you to launch into the 2016 with an action packed evening of comedy, performance, Live Music, DJs, Dancing, and much more!


• COMEDY SHOW •

The Sunday Service (9-10PM)
The Sunday Service is Ryan Beil, Caitlin Howden, Kevin Lee, Aaron Read, Taz VanRassel, and our musical director, Emmett Hall. With over 20 Canadian Comedy Award Nominations, a CCA Best improve Troupe Award in 2012, and international recognition, The Sunday Service present to audiences across North America a fast paced and singular take on traditional long form.
"Vancouver has a top-notch comedy scene that doesn't get the attention it deserves, so it's great to see the always-entertaining Sunday Service getting national recognition." – Gregor Robertson, Mayor of Vancouver. (who proclaimed Nov. 18, 2011 Sunday Service Day)
http://www.thesundayservice.ca
• LIVE MUSIC •
The Ballantynes (11PM-12 AM)
Three years in, The Ballantynes have garnered a reputation for being dance-floor fillers and party starters. Landing among friends wherever there's a crowd that's dying to shake, the Cascadian blue-eyed soul sextet have found themselves on the soundtrack to festivals like Squamish, Sled Island, and Rifflandia, as well as sharing the stage with legends like Lee Fields, Roky Erickson, and Memphis garage heavies, Reigning Sound.
Born from the sweat, swoon and swagger of the long running East Van Soul Club, the group's reverence for Northern Soul all-nighters and storming Motown hits is measured in nods, not knock offs.
https://theballantynes.bandcamp.com/

• DANCING •
The World Famous Motown Party (12AM-3AM)
Good Kids, The Fox and The World Famous Motown Party present Motown New Year's.
Come shimmy and shake in the New Year to old favourites and rare grooves from Stevie Wonder, The Supremes, Jackson 5, Marvin Gaye, and much more as we spin the best and brightest music from the Motown, Northern Soul, Stax and Tamla labels, played by some of each city's best DJs. The Motown Party features some of the best Soul DJs in the city: SlimRoy (East Van Soul Club ) and Roy Abel (The Y2K Party).
Brought to you by Good Kids
www.goodkids.ca | www.vimeo.com/12658879
• GOODTIMES •
A NIGHT IN HEAVEN (10PM-3AM)
Come join us for a special New Year's Edition of the city's biggest alternative classices dance party! Bliss out with us in the Fox Cabaret's Projection room to the sounds of The Smiths, New Order, The Cure, Stone Roses, Joy Division, Depeche Mode, Orange Juice, Belle & Sebastian, Happy Mondays, The Wake, The Strokes, Felt, Violent Femmes, Pulp, The Pixies, and more. Indie, post-punk, and Brit Rock, spun by the Heaven DJs: Daniel R. (C86/Spirit Music) and Alan Ng (Britpop Night/Semi Charmed Life).
---
TICKET INFO

Presale tickets on sale now! Full Line-Up announcement mid—November.
$24 — After MIdnight Ticket
$38 — General Admission (Discounted)
$45 — General Admission ( Final Price)
$60 — Champagne Ticket (Includes Glass of Bubbly)