Description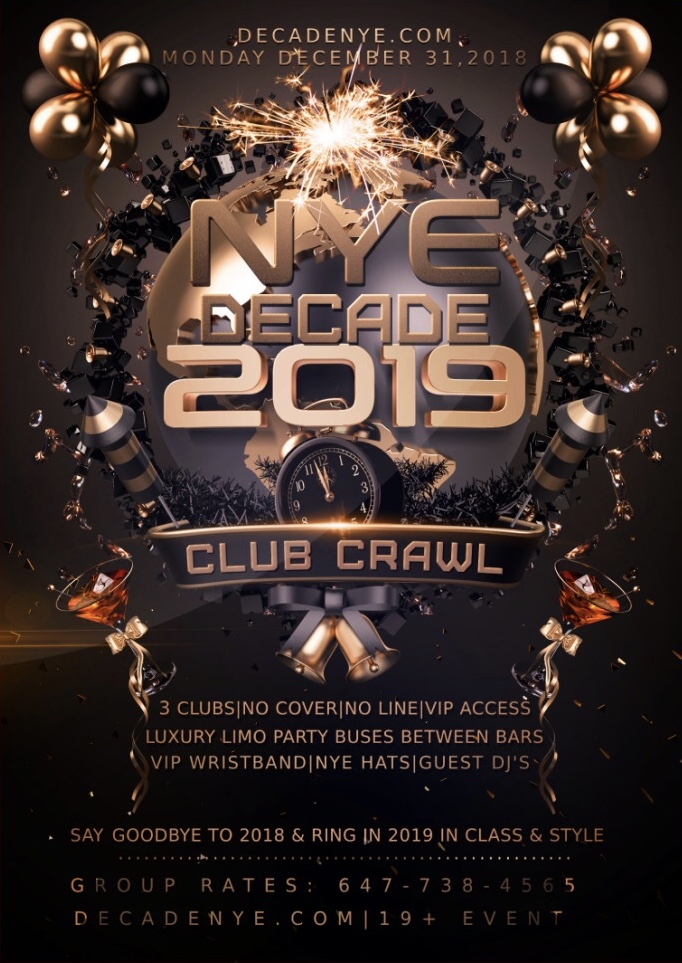 Decade- Countdown NYE Club Crawl 2018/2019 Toronto New Years Eve Gala Celebration- 3 Parties & Events, 1 Wild Celebration, Luxury Limo Party Buses & Party Buses Between Venues
THE UNDERGROUND LIVE|GRACE O'MALLEYS, CUBE TORONTO, FICTION, BALLROOM, EARLY MERCY & MANY MORE
This New Years Eve get ready and join us as we present to you the 2018/2019 DECADE Countdown New Years Eve Club Crawl. Party at 3 of Toronto's hottest BEST nightclub venues in downtown Toronto as we say goodbye to 2018 and ring in 2019 with thousands of people in style as we countdown the final hours! Celebrate NYE in style at the top events & parties Toronto has to offer where all cover & limo buses & party bus transportation is included in one ticket price! Forget waiting in line, welcome to DECADE COUNTDOWN NYE CLUB CRAWL! Your VIP Wristband gives you exclusive no line & no cover, VIP Access! Its New Years Eve! Why party at one celebration when you can party at 3 of the top nightclubs. We will follow as a group to 3 locations with instant access. Limited group rates available. Space on board is limited on this wild party on wheels. Put on your finest outfits and get ready as we welcome in 2019 with a massive balloon drop & confetti show! Tickets on sale now! Group rates text 647-738-4565, limited group rates available or decadenye.com
Venues include:
730PM-9PM- The Underground Live- 365 King St West (Starting Location)
This NYE we kick off inside The Underground Live Music Venue. This Multi 6 floor venue will be our first stop and meeting destination. Enjoy live music, guest DJ's and dance away to the final hours of 2018 before it's time to board the buses and depart at 9PM
8PM-9PM-Grace O'Malleys (Gracie's) 14 Duncan St
9PM: Cube Nightclub- 314 Queen St West (2ND Stop)
9PM the party will continue to Cube Nightclub as we continue the countdown to 2019! Guest DJ's playing all your top 40, EDM, Hip-Hop, R&B, Reggae
TWO FINAL STOPS:
1030PM-3AM- Fiction Nightclub- 180 Pearl St (Last Stop)
Our final stop will be Toronto's premiere multi level nightclub: FICTION. Featuring 2 floors, 2 sounds and multi level VIP Booths. Countdown to 2019 will be something you will never forget as we countdown the final hours 2018 and ring in 2019! Walk the RED CARPET upon arrival and walk inside in style. With Black & Gold Decor, Hundreds of balloons hanging from the ceiling, photographers capturing those special memories, NYE hats and Tiaras will be provided alongside Party Favors. At midnight witness a confetti show! Guest DJ's playing all your top tunes- HIP-HOP, R&B, REGGAE, OLD SCHOOL, LATIN, SPANISH, REGGAETON, TOP 40, HOUSE!
Book your exclusive VIP Booth at Fiction today: $600 Package Includes: 3 Bottles, VIP Booth, Unlimited Mix, NYE Party Favors, Host, Confetti Cannons & More. To book call/text 647-738-4565. Premium upgrades available.
10PM-3AM: 145 John ST (LAST STOP)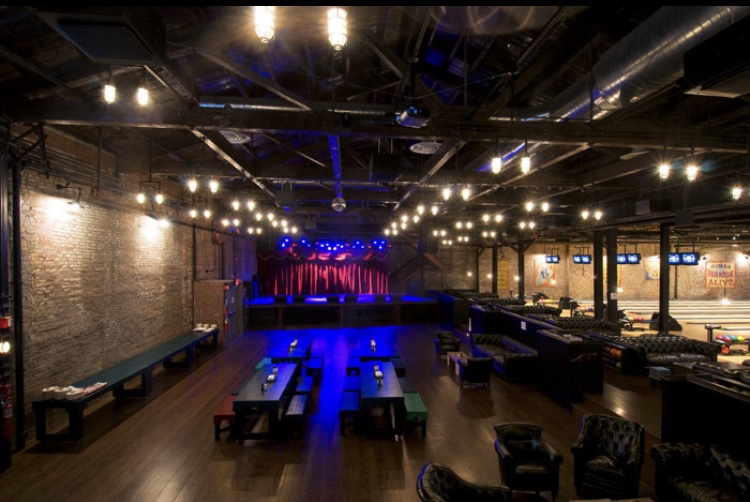 Additional last stops has been added! This multi floor venue features 2 floors, rooftop, indoor bowling alley And luxurious VIP seating! Guests DJ's will be rocking your top tunes counting down the final hours! Just a 3 min walk from Fiction! Guests may also end the night at this entertainment venue for one unique experience!
10PM-3AM- EARLY MERCY 540 King St West (LAST STOP)
Limited wristbands will be available from Saturday December 29-Monday December 31 for cash orders! Text 647-738-4565, wristbands will be available in downtown Toronto! Advance tickets on sale now! Prices increase every week starting December 1! Group rates available, Text 647-738-4565 for promo codes or decadenye.com! USA/International customers may purchase tickets in USD by heading over to: https://www.eventbrite.ca/e/decade-new-years-eve-club-crawl-2019-tickets-52856474137
YOUR NYE CLUB CRAWL TICKES INCLUDE:
3 Premiere Multi Level Nightclubs in downtown Toronto
Luxury Limo Party Buses Between Venues starting at 9PM (VIP Gold Wristband)
Party Buses between 3 venues ( Party Bus ticket holders)
No cover & instant access upon arrival with the group with your wristbands
Photographers Capturing all the moments in limo buses & in each venue
NYE Hats & Tiaras
Confetti Showcase at midnight at the last location
Guest DJ's At each venue
Plus much more
THE LUXURY LIMO PARTY BUSES: (MUST HAVE VIP GOLD WRISTBANDS TO ENTER LIMO BUSES)
REGULAR PARTY BUSES FOR PARTY BUS TICKET HOLDERS (LIMITED REGULAR PARTY BUSES WILL HAVE LED LIGHTS)
How does it work: 1. Purchase your tickets using any major credit card or VISA Debit 2. Meet at the starting destination on December 31st to retrieve your VIP Wristabnds 4. At 9PM we will start boarding all the limo buses & party Buses which will guide you to 3 venues until the last stop is reached, if you purchased. a VIP General Admission Wristband, Party hosts will guide you from club to club 4. Upon arrival at the venue,show your VIP Wristband and you'll gain no cover & instant access 5. When it's time to board and depart to your next Stops announcements will be made 6. Dance away as each venue will have guests DJ's rocking the night away, don't forget to smile as our photographers will be capturing all the special moments at each venue
19+ Event, Dresscode in full effect. Dress to impress! Jeans are allowed
Music: Hip-Hop, R&B, Reggae, Old School, Reggaeton, House, EDM, Euro, Waybacks & all your top hits
Advance tickets on sale now! Prices increase every week starting December 1! Group rates available, Text 647-738-4565 for promo codes or decadenye.com
NYE Club Crawl F.A.Q:
Q- Where would everyone meet up?
A-730-9PM The Underground Live Music Venue 365 King St West (Starting Location) to retrieve your VIP Wristabands and meet the group.
Q- What time to buses depart?
A- Buses will start to depart outside your first destination starting at 9pm. If you missed your bus make your way to your second stop Cube to meet the group. If your late, make sure to contact event organizers and meet us at the location we arrived to! .
Q- How Does this actually work?
A- Once you have received your wristbands you will get VIP treatment at 3 venues. Simply show your wristband at the venue and you will get no cover, no line during the club crawl by following various hosts. We will follow as a group to 3 downtown venues. Our super fun party hosts will lead the way to the different locations and limo bus/party bus ticket holders will have bus transportation between 3 venues starting at 9pm. We will make our way to 3 selected venues. WRISTBANDS ARE ONLY VALID FOR THE CLUB CRAWL ONLY.
Q- How long do we stay at each location?
A- Each location will be 1hr 30mins and your last stop will be until close which is 3am.
Q- Is there more than 1 bus?
A- Yes! There will be tons of buses to transport everyone. Each limo bus hold 50 people and every party bus holds 60 people. Limo buses will be different from party buses. Limo buses feature surround sound, LED lights, poles, dance floor and more. A shuttle will run between the last venue we departed from just in case you missed the bus!
Q- How do we get from club to club?
A- All Clubs Are Minute Apart. VIP General Admission ticket holders- VIP Hosts will lead the way to each destination, Simply Crawl, Stomp, Walk Or Run all venues will Be walking distance.All wristbands holders will follow as a group to all venues part of the club crawl, your wristbands will have the list of venues in order. VIP Limo Bus & Party Bus ticket holders will board various buses and be taken to each location in style starting at 9pm until we reached our last stop for the evening
Q- Can we order bottle service?
A- Yes, call/text 647-738-4565 for bottle service packages. Booths must be reserved in advance. Bottle service will be available at FICTION by booking in advance only.
Q- Whats the difference between limo bus and party bus?
A- Limo buses will feature LED lights, poles, dance floors, leather seating, surround sound and live photographer on each bus. Limo buses will be the buses you see under LIMO BUS photos. Party bus will be a regular bus that holds 60 people.
Q- What if I can't make it to the 1st location to pick up my wristbands?
A- We recommend everyone to arrive at the main stop if you can't make it please send someone to pick up your wristbands and you can meet them at their current location to join the party where you can join from there. Wristbands may also be picked up until 10pm at your second location. If your late you will need contact event organizers to retrieve a wristband and meet us at the destination we arrived to and you can start the night from that venue!
Q- How do we know when to go to the next location?
A- Our MC'S will announce when we will be heading to the next destination. Everyone will be notified 20mins before departure. Also your wristbands have all the set times and venue details just in case you missed the announcement
Q- Whats the difference between VIP General Admission , VIP Limo Party bus & party bus tickets?
A- VIP General Admission gives you all the same benefits- no cover, no line, etc but without the limo bus or party bus so you may club crawl to the destinations by following hosts without the bus, we follow as a group. VIP Limo Party bus simply gives you VIP transportation without walking and arriving at each location in style in various limo buses . Limo buses feature LED lights dance floor, surround sound, photographer on the bus. Party buses will be different from limo buses. Party buses will be a regular party bus. Limo buses hold 50 people each bus and party bus holds 60