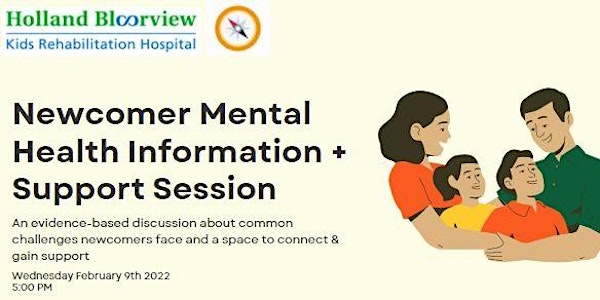 Newcomer Mental Health Information + Support Session
An Information and Support Session on the topic of Newcomer Mental Health for Newcomer Parents of Children with Disabilities
About this event
This event is part of a series hosted by the Family Navigation Hub. The series shares information and resources with families related to social needs such as stable housing, food security, access to childcare, social connections and more.
This virtual Newcomer Mental Health Information + Support Session is geared to parent/caregivers with lived experience as immigrants, refugees or newcomers. The session will feature Shriya Agnihotri, Masters of Social Work Student from University of Toronto, and Gunjan Seth, Holland Bloorview Family Leader, who will present information about newcomer mental health and facilitate supportive discussion with participants.
This session will provide research-based information regarding mental health challenges that newcomers to Canada commonly face. There will be opportunity for participants to share your own personal experiences as we aim to provide a sense of belonging and peer support.
This event will include information about:
• Common challenges faced by newcomers to Canada
• Culture Shock, Assimilating to a new environment and the Healthy Immigrant Effect
• Newcomer experiences + parenting a child with a disability
• Newcomer experiences and impacts on mental health
• Community resources for settlement services and newcomer mental health supports
Questions about this event? Please email familynavigation@hollandbloorview.ca
This event will take place over Zoom. Live automated captions will be provided. If you require accommodations or language interpretation, please contact Stephanie Moynagh at 416-425-6220 ext. 6146 at least two days prior to the event.
Deaf or Hard-of-Hearing and want to reach us by phone? Try Relay Service: www.bell.ca/Accessibility_services/Bell_Relay_service. Or if you have a TTY or VCO phone, dial 711 and give the number provided.