MEET ONLINE WITH HIRING COMPANIES FROM NEWFOUNDLAND & LABRADOR
About this event
LOOKING FOR WORK? DO YOU LIVE IN NEW FOUNDLAND?
REGISTER FOR THE NEWFOUNDLAND & LABRADOR VIRTUAL CAREER FAIR
The Newfoundland & Labrador (St John's, etc.) Virtual Career Fair connects candidates and industries across the province of Newfoundland & Labrador (St. John's, Corner Brook, Mount Pearl, Admirals Beach, Anchor Point, Appleton, Aquaforte, Arnold's Cove, Avondale, Badger, Baie Verte, Baine Harbour, Bauline, etc.)
The Virtual Career Fair is for Job Seekers ONLY in CANADA. (No International Applicants)
WHEN: March 29th, 2022 | TIME: 1 pm - 4 pm (Eastern Time)
ONLINE EVENT: CLICK HERE
UPCOMING DATES: June 20th, 2022.
LIST OF EXHIBITORS: Will be Released 24 hours prior to the Career Fair.
FREE ADMISSION FOR JOB SEEKERS
EMPLOYER REGISTRATION CLICK HERE
EMPLOYER SOLICITATION IS NOT ALLOWED AT THE JOB FAIR
PAST EXHIBITORS - JUNE 23RD 2021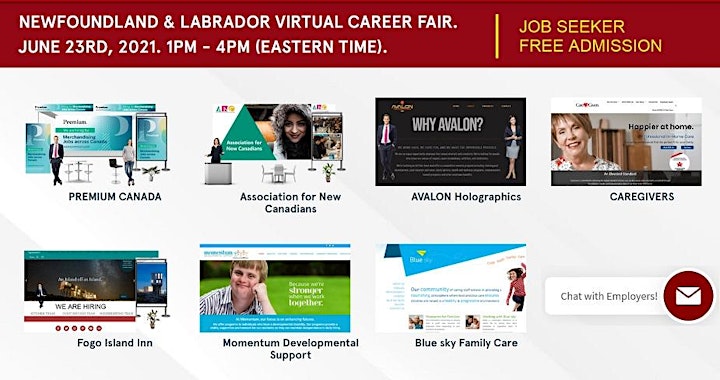 VIEW THE PAST JOB FAIRS
Organizer of Newfoundland & Labrador Virtual Job Fair - March 29th, 2022
Canada's most established and most attended Career Fairs in the country.  We host more than 75 Career Fairs yearly, bringing together over 500 Exhibitors and thousands of Job Seekers across Canada and international. We connect Candidates and Organizations looking for employment, education and training opportunities across Canada. We create possibilities for career advancement, continuing education and personal development. We organize multi-sector recruitment events open to all local, regional, provincial, national and international organizations.