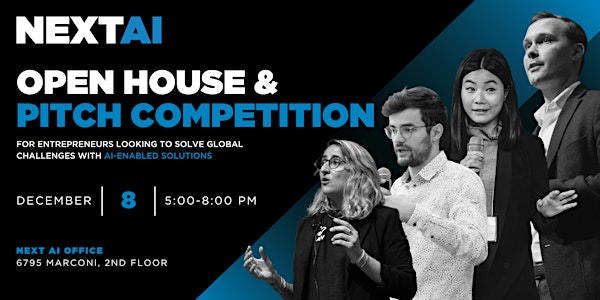 NEXT AI Open House & Pitch Competition
Learn more about our program opportunities, the recruitment process, and the skills, experiences and knowledge required for admission.
When and where
Location
Next AI 6795 Rue Marconi #Bureau 200 Montréal, QC H2S 3J9 Canada
About this event
At NEXT AI, we uncover Canada's next generation of AI-enabled ventures and supercharge their ambition by showing them what is possible. We accelerate their trajectory with access to education, mentorship and domain expertise.
On December 8th from 5 pm to 8 pm, NEXT AI and SAMA will host an open house and a Next AI pitch competition at their Montreal offices located in the Mile-Ex area, the heart of the AI ecosystem. This info session is open to entrepreneurs, university students and recent grads who want to build their own startups or work for one.
This will be a chance to learn about NEXT AI's program and hear diverse and non-traditional entrepreneurial stories from alumni and employees at NEXT AI.
Drop by Sama's Montreal office between 5pm and 6pm for a quick visit and a chance to chat with Seynabou or one of her colleagues before heading back to the Next AI offices to continue to network and attend the pitch competition.
THE CONCEPT // For one evening, NEXT AI will open their doors to the public. This night will bring together the vibrant actors of the tech ecosystem with their startups, local community of students, job seekers, potential partners, and curious neighbours.
WHEN // On December 8th from 5 pm to 8 pm, organized by NEXT AI
WHERE // 6795 Marconi, 2nd floor in the offices of NEXT AI (Networking in common area)
SPREAD THE WORD! // We want to initiate as many meaningful connections as possible.
PITCH COMPETITION:
During the night, we will also be hosting a small 60 second pitch competition. That's right, this is a chance for you to showcase your venture. Why participate in a pitch competition you may ask?
Attract Talent: You're a smart company - and we can connect you with smart local talent.
Grow your brand recognition and awareness.
Grow and engage with the community.
Top pitch gets fast-tracked directly into the interview stage for the NEXT AI 2023 cohort!
Reach out to your own network, make sure everyone knows that our Open House is on its way, and that you are part of the journey! Come join us for free food and drinks 🤤
Here is the schedule of the night (tentative)
5:00 PM - 5:30 PM: Registration
5:30 PM - 6:00 PM: Office tour and Networking
6:30 PM - 7:00 PM: Pitch competition
7:00 PM - 8:00 PM: Networking
--------------------------------------------------------------------------------------------------------------
Chez NEXT AI, nous cherchons `a découvrir la prochaine génération d'entreprises canadiennes axées sur l'IA et stimuler leur ambition en leur montrant ce qui est possible. Nous accélérons leur trajectoire en leur donnant accès à l'éducation, au mentorat et aux experts de l'industrie.
Le 8 décembre de 17 h à 20 h, NEXT AI organisera une journée portes ouvertes dans ses bureaux situés dans le quartier Mile-Ex, le cœur de l'écosystème de l'IA à Montréal. Cette séance d'information est ouverte aux entrepreneurs, aux étudiants universitaires et aux jeunes diplômés qui souhaitent créer leur propre entreprise. Ce sera l'occasion de découvrir le programme de NEXT AI et d'entendre des histoires d'entrepreneurs diverses et non traditionnelles de la part d'anciens étudiants et d'employés de NEXT AI.
LE CONCEPT // Le temps d'une soirée, Next AI ouvrira ses portes au public. Cette soirée réunira les acteurs dynamiques de l'écosystème technologique avec leurs startups, la communauté locale des étudiants, les demandeurs d'emploi, les partenaires potentiels et les voisins curieux.
QUAND // Le 8 décembre de 17h à 20h, organisé par Next AI
OÙ // 6795 Marconi, 2ème étage dans les bureaux de Next AI (Networking dans l'espace commun)
FAITES PASSER LE MOT ! // Nous souhaitons établir le plus grand nombre possible de connexions significatives.
CONCOURS DE PITCHS :
Durant la soirée nous organiserons également un concours de pitch 60 secondes. En effet, c'est l'occasion pour vous de présenter votre entreprise. Pourquoi participer à un concours de présentation?
Attirer du talent : vous êtes une entreprise intelligente et nous pouvons vous mettre en contact avec des talents locaux.
Développer la reconnaissance et la notoriété de votre marque.
Développez et engagez-vous auprès de la communauté.
La meilleure présentation est directement admise au stade d'entretien pour la cohorte NEXT AI 2023 !
Faites appel à votre propre réseau, assurez-vous que tout le monde sache que notre journée portes ouvertes est en route, et que vous faites partie du voyage ! Nous offrirons des boissons et la nourriture 🤤
Voici le programme de la soirée (provisoire)
17H - 17H30 : Inscription
17H30 - 18 H00 : Visite des bureaux et réseautage
18H30 - 19H : Concours de pitchs
19H00 - 20H00 : Réseautage
YOUR AI STARTUP STARTS HERE.
Accelerate your growth and get access to our powerful entrepreneurial network with NEXT AI's program.
2023 Cohort Applications NOW OPEN: https://apply.nextcanada.com/
Les applications pour la cohorte 2023 sone MAINTENANT OUVERTES: https://apply.nextcanada.com/