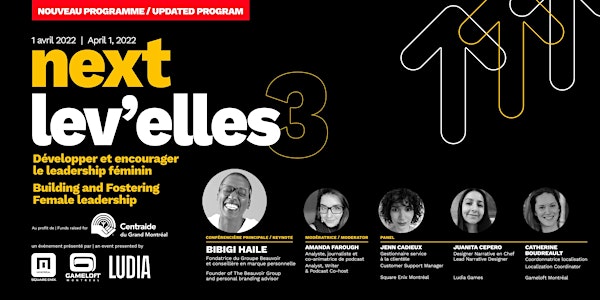 Next Lev'Elles 3 - Building and fostering Female Leadership
Un événement virtuel pour encourager le leadership féminin dans le jeu vidéo/ A virtual event to promote female leadership in video games
About this event
NOUVEAU PROGRAMME // UPDATED PROGRAM
Tickets et Donations : Les billets pour assister à Next Lev'Elles 3 sont gratuits, mais les organisateurs invitent les participantes et les participants à faire un don à Centraide du Grand Montréal: https://secure.e2rm.com/registrant/DonationPage.aspx?eventid=374192&langpref=fr-CA&Referrer=direct%2fnone
Les fonds recueillis seront investis dans un réseau de 17 centres d'aide aux femmes de la grande région de Montréal, qui offrent des services adaptés à la réalité et aux défis propres aux résidentes de chaque quartier. Concrètement, les organismes de ce réseau souhaitent aider les femmes à regagner le contrôle sur leur vie grâce à un éventail de services : ateliers sur le budget, groupes de soutien aux victimes, conseils en droit de la famille, intégration culturelle, aide alimentaire et plus encore.
Langue: Anglais - Interprétation Live en français
La conférence:
La conférence virtuelle Next Lev'Elles 3 : Développer et encourager le leadership féminin célèbre les femmes qui ont fait tomber les barrières pour atteindre des postes d'influence dans les domaines des sciences, des technologies, de l'ingénierie et des mathématiques (STIM) et des jeux vidéo, et pavent aujourd'hui la voie à la prochaine génération de professionnelles du secteur techno.
- Laissez-vous inspirer par notre conférencière invitée, Fondatrice du Groupe Beauvoir et Conseillère en marque personnelle, Bibigi Haile
- Découvrez les perspectives motivantes de notre panel de femmes en poste de gestion dans l'industrie des jeux vidéo, spécialisées dans les domaines du service à la clientèle, de la localisation et du design narratif : Jenn Cadieux, (Square Enix Montréal) Catherine Boudreault (Gameloft Montréal) et Juanita Cepero (Ludia Games).
La conférence explorera des sujets tels que le leadership féminin, l'avancement professionnel, l'équité et l'inclusion en milieu de travail, l'équilibre entre vie professionnelle et vie personnelle, et plus encore ! Nous avons hâte de vous y voir!
***
Donations for: Centraide of Greater Montreal: https://secure.e2rm.com/registrant/DonationPage.aspx?eventid=374192&langpref=en-CA&Referrer=direct%2fnone
The funds raised will be invested in a network of 17 Women's Centers across Greater Montreal that offer services tailored to the challenges faced by women, based on the reality of each neighborhood.
Language: English : Live interpretation in French
The conference:
Next Lev'Elles 3: Building and Fostering Women Leadership is a virtual conference that celebrates women who have broken barriers to reach positions of influence in STEM and in the video game industry and are paving the way for the next generation of women in tech.
- Get inspired by our keynote, Founder of the Beauvoir Group and personal branding advisor, Bibigi Haile
- Get motivated by our panel of women video game industry professionals in leadership roles in customer support, localization, and narrative design: Jenn Cadieux, (Square Enix Montréal) Catherine Boudreault (Gameloft Montréal), Juanita Cepero (Ludia Games)
The Conference will explore issues related to women leadership, career advancement, workplace equity and inclusion, work/life balance, and more.