The global pandemic turned work as we knew it on its head and technological advancements changed hiring. Things aren't what they used to be.
About this event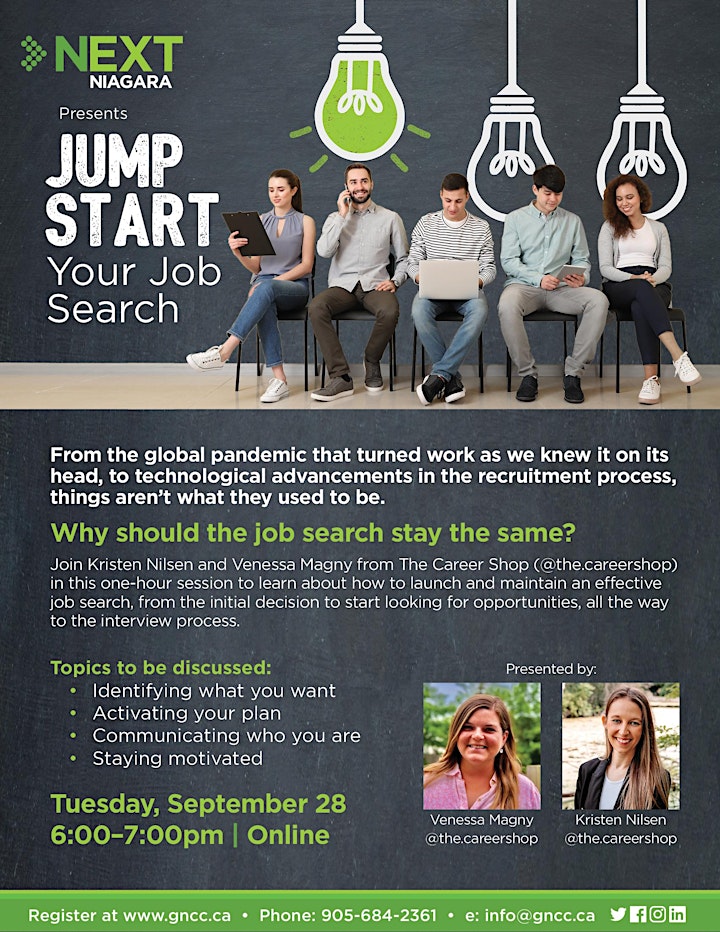 Jump Start Your Job Search
Join Kristen Nilsen and Venessa Magny from The Career Shop (@the.careershop) in this one-hour session to learn about how to launch and maintain an effective job search, from the initial decision to start looking at opportunities all the way to the interview process.
As many workers plan to return to the office for the first time in months, we've already begun to see evidence of the "Great Resignation", with HR experts and economists expecting workers to leave their current roles for new employment at record rates. Whatever the reason for seeking new employment, having a plan, and being prepared is the best way to ensure the experience is as coordinated, and manageable as possible.
Topics to be discussed:
Identifying what you want
Activating your plan
Communicating who you are
Staying motivated
Career paths, recruitment, and best practices have changed. From the global pandemic that turned work as we knew it on its head, to technological advancements in the recruitment process, things aren't what they used to be. Why should the job search stay the same?
There will be an opportunity for Q&A during the session, but please feel free to submit any job search questions beforehand and we will try to answer as many as possible.
Kristen Nilsen
Kristen has spent much of her professional life working in higher education, supported by an academic background in Business (BBA) and Education (MEd). Her work experiences have consistently had a client-centric approach, seeking solutions to problems, and providing tailored support to stakeholders. Her work in supporting clients in their career development began while working as a Career Coach in 2017 but advising, coaching, and encouraging individuals of all backgrounds had been integral to her work throughout her career. Her coaching philosophy focusses on providing clients with the tools to be successful and empowering them to maneuver situations with confidence, in relevant and relatable ways. During the pandemic, in addition to her day job at Brock University, she co-founded The Career Shop to provide personalized career coaching to clients who may be established in their careers but are now looking for new opportunities.
Venessa Magny
Venessa has over 7 years of experience in working in post-secondary career education, from working one on one with individuals to working with employers to create innovative recruitment strategies. She holds a degree in Psychology from the University of Ottawa, and an HR Certificate from Humber College. Having experienced her own challenging career transitions, she saw an opportunity to support other mid-career professionals who were ready for their next step but not quite sure how to get there. She co-founded The Career Shop as a resource for professionals to find answers to questions they have, and help people love what they do. Venessa continues to work for Brock University in Career Education as the employer consultant and is also on the Board of Directors for the John Howard Society of Niagara.
Submit your question for the panel during the registration process, or use the chat function during the event.