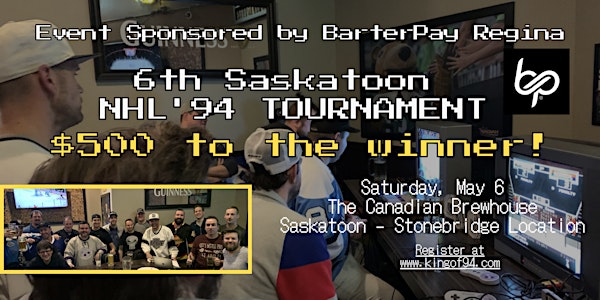 NHL'94 tournaments! (SNES and SEGA) -Sponsored by BarterPay Regina
6th NHL'94 Tournament in Saskatoon at the Canadian Brewhouse - Stonebridge Location on Saturday, May 6th!
Date and time
Sat, May 6, 2023 1:00 PM - 11:00 PM CST
Location
The Canadian Brewhouse 3150 Preston Avenue South Saskatoon, SK S7T 0V1 Canada
Refund Policy
Refunds up to 7 days before event
Eventbrite's fee is nonrefundable.
About this event
Welcome to the 6th NHL94 tournament in Saskatoon!
DRINK AND EAT YOUR OWN PRIZE POOL! Sponsored by Barterpay Regina.
The day before, come on down to Yard and Flagon, anytime between 5pm and 10pm, and drink Rebellion brand beer (one of our sponsors). BRING CASH! Whatever your bill is, you pay to BarterPay, and they will pay our entire group's bill with BarterCredits™. While the concept is a bit difficult to explain, it can be simplified; if our group spends $2000 CAD, that will go towards cash and prizes for the day of the tournament.
Barterpay Regina is guaranteeing A $500 1ST PLACE PRIZE for the winner of each console!
This is going to be an event like no other!
NHL'94 Super Nintendo and Sega Genesis Tournaments in Saskatoon at the Canadian Brewhouse - Stonebridge Location on Saturday, May 6th!
Super Nintendo - 1:00 pm to 6:00 pm
Sega Genesis - 6:00 pm to 11:00 pm
Cash and prizes are to be awarded! $30 entry fee. Guaranteed 5 games. There will be a round-robin and playoff format. The finalized format is to be determined based on the number of entries.
There will be 6 setups meaning little to no wait times between games!
Email: nhl94king@gmail.com with any questions!
Tournament Rules/Format:
1. In-Game Settings: 5-minute periods, no offsides, penalties on, no line changes, manual goalie
2. Selecting Teams: A coin flip will take place. The loser of the coin flip will choose two different teams that will play. The winner of the coin flip picks their team from the two chosen and will play as the Home team.  If both players agree to use different teams, then a match-up call isn't necessary. 
3. If there is a system malfunction, the game will restart with the score of the game and play the number of periods that were remaining (a partial period would count as a full period).
Example: The score is 3-1 for Player A and the game malfunctions halfway through the 3rd period. The game is restarted, with the same teams, and 1 whole period is played. The score in the new game is 3-0 for Player B. The total score is 4-3 Player B, so Player B wins. If the total score is tied, use the next period(s) as the overtime period.
4. If a game is still tied after overtime is completed, then the game will be reset, and play will continue with the same teams until someone scores. (player injuries and penalties won't carry over from the previous game).
5. Substituting for an Extra Attacker: This is the only time pausing is allowed during gameplay. The goalie can be pulled at any time when the puck is in the neutral zone or in your offensive zone. You must have control of the puck if you are pulling him when in your defensive zone. You can only put the goalie back in immediately after a whistle (before a faceoff). A player should not gain a scoring advantage because of the pause.
6. Editing lines: Line changes during the game can only be made during stoppages of play. They should not take more than 20 seconds so please be respectful and keep it short.
7. 6-goal mercy rule: Once a player has a 6-goal spread, at any point, the game is considered completed and that score will be recorded. Players can continue playing until the game is finished.
8. Tie breakers will be separated by wins, then +/-, then least goals allowed, then the person to register the earliest. (hey, it's better than a coin flip)
9. A 'referee' will be designated to resolve any disputes not covered under the rules.
10. Controllers will be provided, however, you may bring your own controller.
About the organizer
We organize tournaments for NHL'94 played on Sega Genesis and Super Nintendo with cash prizes for the winners.
We've hosted many tournaments in the following cities
CANADA
Toronto, ON; Vancouver, BC; Edmonton, AB; Halifax, NS; Saskatoon, SK
USA
Las Vegas, NV