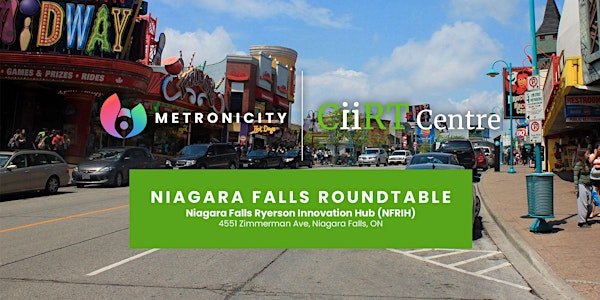 Niagara Falls Metronicity Roundtable, ON, Canada
We're trying something new. We are gathering brilliant locals to create joint solutions for shared common business problems in communities.
When and where
Location
Niagara Falls Ryerson Innovation Hub 4551 Zimmerman Avenue Niagara Falls, ON L2E 3M5 Canada
About this event
Through the Metronicity Roundtables, we're conducting an ongoing Strategic Business Planning and Implementation collectively with Local Businesses at the Ecosystem Level to address the following shared challenges:
Employee disengagement, ghostings, and mass resignations.
Getting on and Succeeding in E-commerce
Competing for Online Media Attention while avoiding being victimized by Social Trolls & Cancel Culture.
Financing the bounce-back of business from 2 years of the pandemic
Rising costs of inventory, services, parts, and supplies.
Do we Collaborate or Compete with Big Businesses?
Costs and Complexities of much needed Automations in Operations.
Action, alignment, and authenticity. These are the 3 overarching strategies for everything we do through the roundtables discussions. Technology-centric solutions work best especially on engagements of many-to-many. Enjoy the benefits of being part of your local Metronicity.
Remote Business Enablers are welcome to join. If you are in the business of consulting, coaching, training, investing, web development, software development, accounting, or in the business of enabling other entrepreneurs and leaders, we believe that you may have what the local businesses need to succeed so feel sign up and join in. Watch for other Metronicity Roundtables happening in other key cities in Canada.
Add to the Agenda. Upon registration, your confirmation email will contain a link to a form that you can use to add items to the agenda prior to the meeting. During the meeting, CiiRT ProMembers will have Live Access to the Meeting Minutes where they can add their ideas, opinions, and facts by directly typing them into the Google Docs link thru their CiiRT Member Account. All inputs are important. Everything added to the Meeting Minutes that were not discussed will be considered for discussion in the next roundtable in the following month.
With tourism and hospitality being their biggest business offering in the Niagara ecosystem, they are one of the areas hardest hit by the pandemic closures. Niagara also has a host of seasoned brain trust to work with.