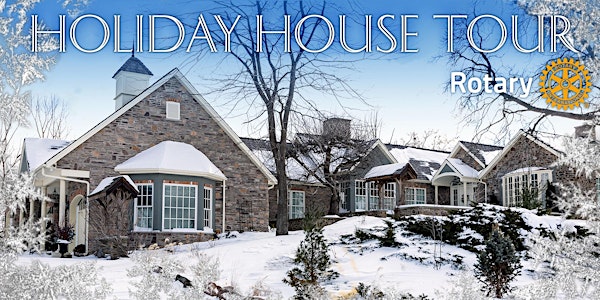 Niagara-on-the-Lake Holiday House Tour 2019
When and where
Location
Niagara-on-the-Lake Golf Club 143 Front St (NOTL Rotary Head Quarters) Niagara-on-the-Lake, ON L0S 1J0 Canada
Description
It's the 21st Annual Rotary Holiday House Tour!!
Friday, December 6 and Saturday, December 7, 2019
And it's bigger and better than before!
There's another VIP tour with even more surprises in store, the 225th Anniversary of St. Andrew's Church, complimentary wine tastings, extended viewing hours for the day tour, and much, much more!

General Day Tour: 9:30 a.m. - 4:30 p.m. (extended hours) $30*
The Rotary Club of Niagara-on-the-Lake Annual Holiday House Tour features six beautiful homes seasonally decorated by professional designers, 4 local landmarks, the 225th-anniversary celebrations of St. Andrew's Church, three wineries offering complimentary wine tastings, and special luncheon offerings! It's the most attended house tour in the region!
VIP tickets =


General Day Tour + A Winter Wonderland evening tour.
Presented by The McArthur Family.
5 - 6:30 p.m. OR 7 - 8:30 p.m., Friday or Saturday night.
EARLY-BIRD PRICING UNTIL OCTOBER 31st!
$60* before October 31/$70* after October 31.
The evening tour of the seasonally decorated, spectacular McArthur Estate, includes:
The first and second floors
Spacious third-floor guest suites
Complimentary sparkling wine
Complimentary warm beverages served outdoors
Magically illuminated estate grounds with Reindeer Stables, Santa's Workshop and Canine Manor
Special gift
Carollers strolling through the grounds
Nativity scene
Free admission for children 1-10 years with VIP ticket.
Two starting points system in place to avoid wait times.
ALL TICKET SALES ONLINE ONLY!
*Eventbrite Handling Fees Apply
#NOTLwonderland #NOTLHolidayHouseTour
Stay for the weekend! Choose from our VIP tour, the annual Candlelight Stroll sponsored by the Chamber of Commerce, a Shaw Festival performance of 'A Christmas Carol', a winery tour, a fabulous meal, shopping, or a plethora of other activities, all amongst the beautiful, seasonally decorated town.


Platinum Sponsor


IMPORTANT MESSAGE:
To reduce single-use plastics, we are asking visitors to PLEASE bring your own shoe bags. A Holiday House Tour souvenir reusable bag will be available for purchase for $2 (donations are always welcome).
Frequently Asked Questions:
Will there be long line-ups at the McArthur House?
The McArthur Estate line-up will have divided entries this year to reduce wait times.
How does the tour work? Where do we start?
This is a self-guided tour. You can start at any of the six main houses to get your wristband. Once you have your wristband, you can view the sites in any order you wish. Many of the properties are close together and easily walkable if you are fully mobile, however, some distances will require a vehicle. There is plenty of parking in town and in the area but individual homes will have limited street parking so plan your route accordingly.
Can I buy tickets at the event or at the NOTL Golf Club?
This year, tickets are available ONLINE ONLY! There will only be information at the Golf Club Headquarters.
Is my General ticket valid for both days?
YES, you can use your General ticket for both days between 9:30 am and 4:30 pm but please leave your wristband on. You may attend both days of the General Day Tour with your VIP ticket, but only one evening Winter Wonderland Tour at the specific time on your ticket.
How much are the VIP tickets?
VIP tickets are $60* each if purchased on or before October 31st. After that date, they are $70*. The VIP price includes all the sites on the General Day Tour as well. There is one specific time for the evening VIP tour which will show on your ticket.
*Plus Eventbrite handling fee.
Can I get into houses at 4:30 pm?
The houses will close at 4:30 pm so you are advised to be at your last house of the day at least an hour prior. Sometimes line-ups can be long so it is better to get there early.
What's the refund policy?
Sorry, but as all funds go to charities, we do not offer refunds.
Can I upgrade my General ticket to a VIP ticket?
If you purchase General tickets but want to 'upgrade' just email us and we will refund your General Ticket purchase. Then, you can re-order the correct tickets. There are limited numbers of VIP tickets and they go fast, so don't hesitate!
Are there line-ups?
Unfortunately, there are line-ups at some of the homes. This is a very popular event and we do our best to minimize line-ups but please allow 30 minutes at some of the houses. Sometimes changing the order of the homes from the listed order can help.
Can I bring my pet?
Sorry but there are no pets allowed in any of the homes.
What shoes should I wear?
All houses have a 'shoes off' policy so it is advisable to wear shoes that slip on and off easily. Also, you will be standing for long periods so something comfortable is advised.
Can I take photos inside or outside the homes?
Photography inside the homes is not allowed except for individuals who have received prior permission for marketing or news purposes. You may take photographs of the homes' exteriors.
How and where do I enter the draw for door prizes?
If you wish to enter to win the door prizes, there will be volunteers taking information electronically at each home. The door prizes are listed in the Holiday House Tour booklet.
Enjoy the 21st Annual Holiday House Tour!!
Watch for updates on our social media pages. Links are in the footnote of the page.