MEET ONLINE WITH HIRING COMPANIES IN NIAGARA.
About this event
LIST of EXHIBITORS - OCTOBER 7TH, 2021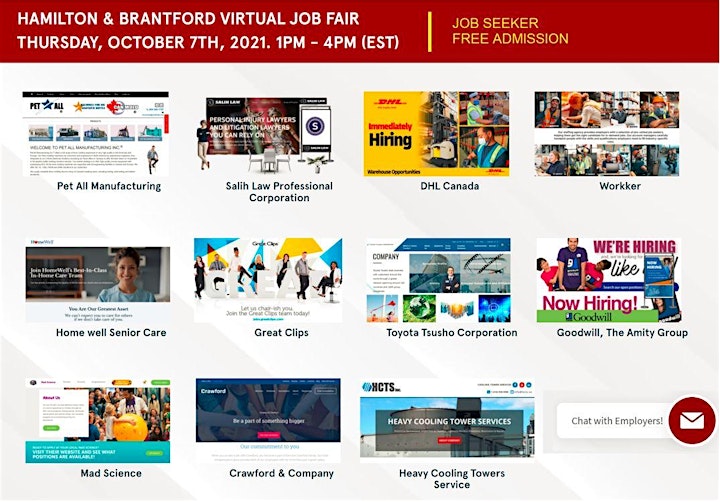 LOOKING FOR WORK? DO YOU LIVE IN NIAGARA?
REGISTER FOR HAMILTON VIRTUAL JOB FAIR
The HAMILTON AREA Virtual Job Fair is a multi-sector recruitment event, open to all local, regional and provincial Organizations and visitors from Hamilton, Milton, Brantford, Niagara, St. Catharine, etc.
Employers are hiring Candidates from Canada only.
WHEN: Tuesday, July 20th, 2021 | TIME: 1 pm - 4 pm (Eastern Time)
ONLINE ACCESS LINK: CLICK HERE
UPCOMING DATES: September 14th, November 16th, January 25th, 2022.
LIST OF EXHIBITORS: AVAILABLE NOW
JOBS POSTED BY EXHIBITORS: APPLY NOW
FREE ADMISSION FOR JOB SEEKERS
EMPLOYER REGISTRATION CLICK HERE
EMPLOYER SOLICITATION IS NOT ALLOWED AT THE JOB FAIR
For additional information, please visit our website link www.jobscanadafair.com
VIEW THE PAST JOB FAIRS