Niagara Young Entrepreneur Kick-Off Weekend
Description
Form a team... build an idea... and develop your entrepreneurship skills... all in one weekend!
Based on the famous "Start-Up Weekend", from Friday November 3 to Sunday November 5, 2017, Brock University BioLinc and Niagara College ncTakeOff are hosting the Niagara Young Entrepreneur Kick-Off Weekend. This event provides superior experiential education for entrepreneurial youth. Participants will create working startups, collaborate with like-minded individuals, and make new friends.
Join us for the "Kick-Off" event for Niagara Young Entrepreneur Kick-Off Weekend! The event will kick-off on Friday night with a networking reception and keynote from 6:00-8:00PM and following the keynote team formation will begin. Community members are invited to mingle with entrepreneurial youth, then learn from inspirational guest speaker, Talli Osborne, during the opening event.
Date: Friday November 3, 2017
Time: 6:00-8:00pm
Location: Brock University, Pond Inlet
On Friday night and Saturday, teams will form and learn from industry leaders. Between Saturday and Sunday, teams will develop demos and pitch presentations, and receive feedback from local entrepreneurs along the way. If you're looking for a co-founder, to apply your business skills, test an idea or take steps towards launching your own start-up – Kick-Off Weekend is the perfect environment! On Sunday, teams will pitch their start-ups and our panel of judges will select a winner to recieve the "Kick-Off Weekend Prize Package" (stay tuned for details of the prize!). A detailed agenda will be emailed to all registered participants before the event.
Participants must be between the ages of 18-29 years old to participate in this event.
Cost: $15 (includes materials, meals & brain fuel.) If cost is a barrier to your participation, we can work out a sponsorship plan.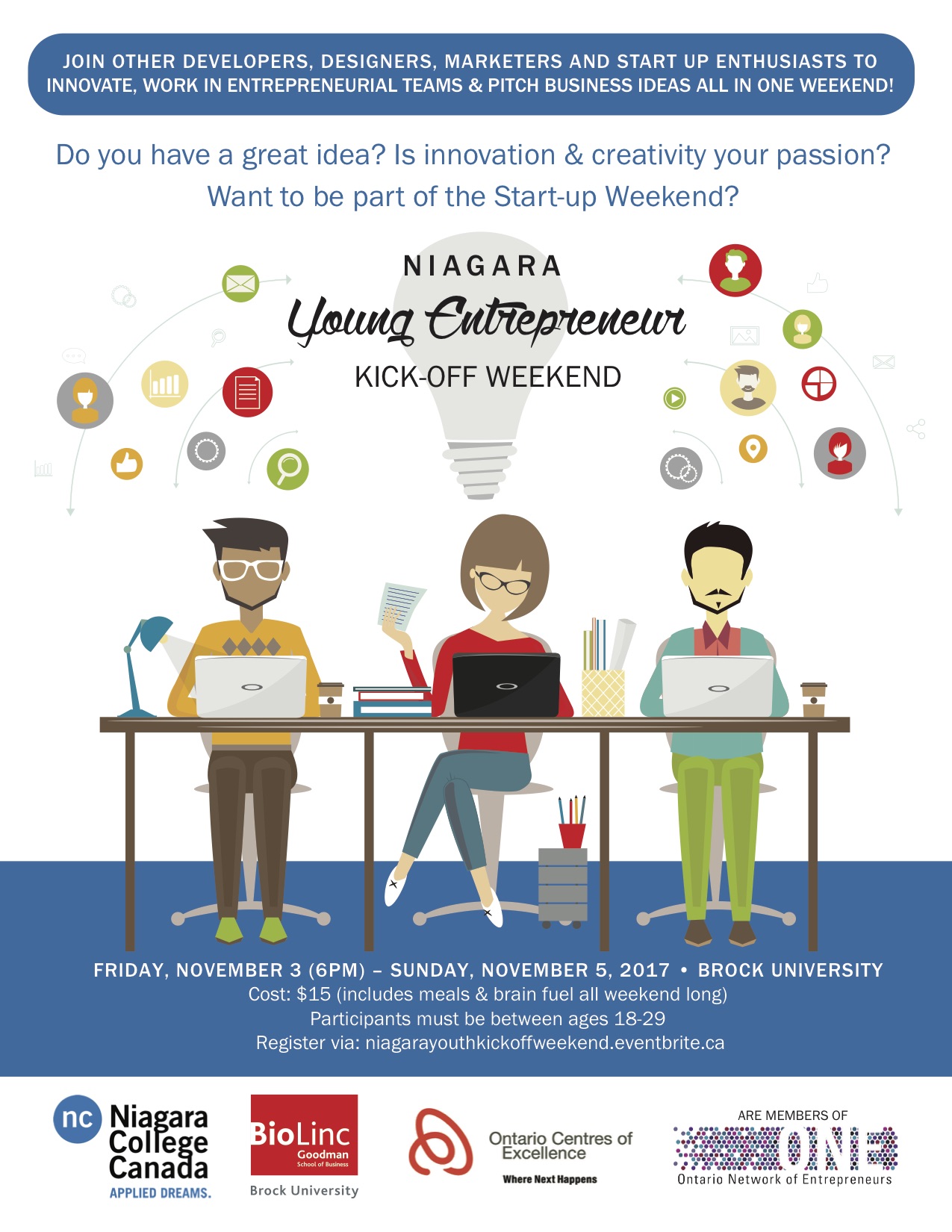 Refund Policy: No refunds will be granted within 7 days of the event if food and drink have already been ordered. Apologies for any inconvenience this may cause.
Terms of Participation Agreement: It is our job to provide you with an incredible networking and learning opportunity. Our intention is that you meet some amazing people that you might actually start a company with, build relationships with mentors, and learn from your peers. The event is intended to be a collaborative forum for sharing, learning, building, and having fun. As such, by registering as a participant, you acknowledge that any ideas shared by you or anyone else over the course of the event are contributions to the overall experience and community. If you as a participant are worried about someone stealing your ideas, please reconsider your participation in the event itself or simply refrain from sharing specifics about your idea.
As a member of your startup community, you agree to be inclusive of any and all people and their ideas. You agree to act professionally, treat everyone with respect, and treat the event facilities with proper care. You agree that you are responsible for any accidents or damages that you cause. You also agree to not hold the Niagara Youth Entrepreneur Kick-Off Weekend organizers, your local volunteer team, or any of the event supporters liable for any loss, damage, injury, or any other unforeseeable incident.
By Participating at the event, you grant the event organizers permission to capture photo/video of the event.
If you require transportation to the event, please email BioLinc@brocku.ca to arrange for transportation.