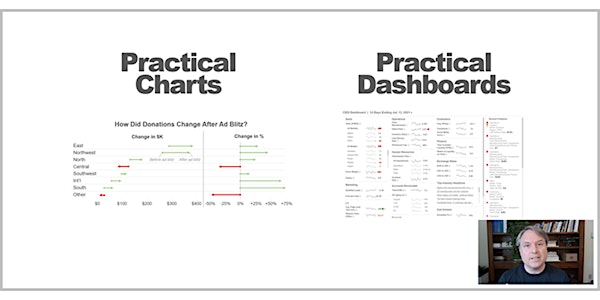 Nick Desbarats' Practical Charts and Practical Dashboards Online Workshop
Sales Have Ended
Registrations are closed
Sorry, tickets are no longer available for this workshop. To be added to the waiting list, please contact info@practicalreporting.com. To be notified of future workshops, please join our email list: https://www.practicalreporting.com/contact/
Sales Have Ended
Registrations are closed
Sorry, tickets are no longer available for this workshop. To be added to the waiting list, please contact info@practicalreporting.com. To be notified of future workshops, please join our email list: https://www.practicalreporting.com/contact/
Join Nick Desbarats as he teaches his groundbreaking data visualization and dashboard design courses online.
About this event
I've held senior business intelligence roles for two decades and am familiar with many data visualization training programs. Nick's course is currently the best data visualization training in the world. Despite having discussed and studied data visualization with many people over the years, it STILL left me with the feeling of having a reprogrammed brain. I want to go back and redesign every chart that I've ever created.
— Chris Weis, Product Manager - Data Visualization, Kaufman Hall
Workshop Description
Join globally recognized data visualization and dashboard design expert Nick Desbarats as he delivers his groundbreaking Practical Charts and Practical Dashboards courses online. Both courses are based on Nick's experiences teaching these skills to thousands of professionals in over a dozen countries, at organizations such as NASA, Bloomberg, The United Nations, Visa, Teradata, and the University of Toronto, among many others. Participants may register for either course or both courses.
To ensure a superior learning experience and allow for a high degree of personal interaction and feedback, this workshop will be limited to 30 participants per course and may sell out, so early registration is recommended.
Courses Offered in This Workshop
Practical Charts (70-minute prerecorded video to be watched anytime before workshop begins, then live online Feb. 15, 16, 17, & 18 from noon to 3:30pm Eastern Time each day): Nick Desbarats' foundational course that equips participants with the principles and best practices to handle every data visualization challenge that they are likely to face in their day-to-day work, and to create charts that are clear, compelling and—above all—useful.
Practical Dashboards (Feb. 22, 23, 24, & 25 from noon to 3:30pm Eastern Time each day): Nick Desbarats' groundbreaking course that uncovers the real reasons why so many dashboards fail to deliver real value, and that enables dashboard creators to create dashboards that users actually like.
Canadian Sales Tax (HST)
Canadian participants should choose tickets marked "Canadian", as these tickets will have Canadian sales tax (HST) added to them. Participants from other countries are not subject to sales tax and should choose tickets that are not marked "Canadian".
Discounts
Full-time employees or students of qualifying public sector, non-profit, and educational institutions are eligible for a 15% discount and should contact info@practicalreporting.com prior to registering to obtain a discount code.
Groups
In order to ensure a mix of participants from a variety of organizations, we ask that no more than fifteen employees from the same organization register for this workshop. If your organization requires training for a larger number of employees, please contact us to schedule a private workshop.
Our online registration form allows up to five participants to be registered at a time, however, organizations may register up to fifteen participants by submitting several registration orders with up to five participants per order.
Training Platform
The Zoom training platform will be used for this workshop. Before registering, participants must confirm that they are able to access Zoom and test out their microphones and speakers/headsets by visiting the website: zoom.us/test.
Participants must use a computer (not a phone or tablet) to log in to workshop sessions. Webcams are not needed for the workshop.
Questions?
Please contact Bryan Pierce at info@practicalreporting.com or +1-613-909-3169 for additional information.