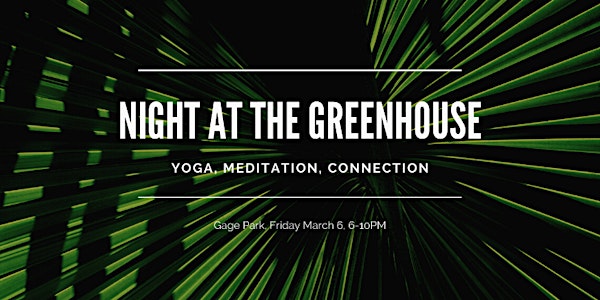 Night at the Greenhouse
The Night at the Greenhouse offers you a full evening to enjoy the aliveness of nature's beauty and to connect to your own natural energies.
When and where
Location
Gage Park Greenhouses Tropical Greenhouse Hamilton, ON L8M 1N6 Canada
About this event
Move, breathe and connect in a jungle under the stars.
Escape to a local tropical oasis and be nourished the calming and revitalizing power of plants in a special event that will restore your body, mind and spirit.
Experience the healing effects of moving and breathing with nature, while taking in the opportunity to enjoy Hamilton's Tropical Greenhouse under the stars.
Your Night at the Greenhouse ticket includes:
The Night at the Greenhouse offers you a full evening to enjoy the aliveness of nature's beauty and to connect to your own natural energies.
This private event at the Tropical Greenhouse in Gage Park gives you exclusive evening access to peacefully stroll the rolling pathways through ponds and plant life, pause for mindful moments, and meet and socialize with like-minded friends.
Settle into a tropical oasis in the heart of the city! We're delighted to bring you an evening retreat in paradise.
Meet your Night at the Greenhouse hosts
Nicole Catenazzi
Nicole first experienced the transformational potential of yoga in a tropical jungle in Costa Rica and credits the practice for bringing present-moment awareness of body and mind. Now a 500-hour certified yoga instructor, she specializes in teaching in hatha, vinyasa, restorative yoga and meditation practices so that others may experience the same. Her goal is to help you find your power, your potential and your peace through movement, meditation and self-inquiry by encouraging you to listen to what your body needs, and responding with compassionate acceptance.
Nicole's yoga offerings include private instruction and drop-in classes in Hamilton, and workshops and retreats around the world. Follow her online at https://www.nicolecatenazzi.com/ and on Instagram (@nameis.nicole).
Lilli Markle
Lilli Markle, a Canadian-raised citizen of the globe, has been a student of yoga, meditation and bodywork for 10 years and a teacher for five. Lilli is a 200hr Registered Yoga Teacher (RYT) with designations in various movement, meditation and healing modalities, including Thai Massage and Ayurvedic Bodywork through the Sunshine Network, Integrative Restoration (iRest), Franklin Method and Laban/Bartenieff Movement Analysis.
Finding her way into the wellness field as a recovering ballet dancer, Lilli discovered how these practices brought a newfound awareness, healing and curiosity surrounding her body and mind. She hopes to inspire her students' own curiosity both on and off the mat. Lilli teaches public and private yoga and meditation, drawing from hatha, vinyasa, restorative and yin yoga as well as Zen and Vedic meditation styles. She also offers workshops, retreats, corporate wellness consulting and Thai bodywork.
More info about Lilli can be found on her website at https://www.lillimarkle.com/ and on Instagram (@lillimarkle).
Tropical Greenhouse - Land Acknowledgement
"The City of Hamilton recognizes and acknowledges that we are located on the traditional territories of the Erie, Neutral, Huron-Wendat, Mississaugas and Haudenosaunee. This land is covered by the "Dish With One Spoon" Wampum Belt Covenant which was an agreement between the Haudenosaunee and Anishinabek to share and care for the resources around the Great Lakes. We further acknowledge that this land is covered by the Between the Lakes Purchase, 1792, between the Crown and the Mississaugas of the Credit First Nation. Today, the City of Hamilton is home to many Indigenous people from across Turtle Island (North America) and we recognize that we must do more to learn about the rich history of this land so that we can better understand our roles as residents, partners and caretakers."
Community Support & Engagement
We are grateful to our suppliers and vendors for helping us to create a community-centred event.
Love My Mat is providing in-kind sponsorship by donating the use of their beautiful meditation cushions made with reclaimed and forgotten fabrics.
All of our vendors have generously responded to our request for a community sponsorship donation, which helps subsidize free tables to small business owner/operators who identify as BIPOC or LGBTQ2 and/or offer sliding scale pricing for guests who identify as well.
To inquire about future vendor opportunities to about sliding-scale pricing in this regard, please email nicole@nicolecatenazzi.com.
FAQs
What do I need to bring?
All you need to bring is a yoga mat! If you don't have one, let us know beforehand and we can bring one for you to borrow.
The greenhouse is warmer and more humid than a typical venue, so we recommend that you wear light and comfortable clothes for you to move in, and a water bottle so you can stay hydrated.
Guests will be required to sign a liability waiver and release form upon arrival, which can be requested beforehand by email nicole@nicolecatenazzi.com.
What time does the event start?
Doors to the greenhouse open at 6:00 pm with the yoga class starting at 7:00 pm. Arrive with plenty of time to set up your mat and enjoy all the greenhouse has to offer!
What time does the event end?
The yoga and meditation practices will wrap up by 9:00 pm and you can enjoy the greenhouse until 10:00 pm; exploring the plant life, shopping with our vendors, hanging with your friends, and nibbling on tasty plant-based snacks.
The greenhouse is not open to the public after dark, so this is your chance to see it from a different perspective!
What if I've never done yoga or meditation before?
No problem! The practices will be sequenced so you can follow along at your own pace. Rest whenever you need and move in whatever ways feel good for your body. Contact us before the event if you have any questions or concerns about participating.
Does representation and accessibility matter?
Absolutely, and we, with the support of our vendors and partners, want to do what we can to make this event as inclusive as possible. If you identify as Indigenous, Black, or a Person of Colour, LGBQT and/or are in need of financial assistance please let us know. Email nicole@nicolecatenazzi.com to have a conversation about options.
How do I get there? Is there parking?
The Tropical Greenhouse is located in Gage Park, towards the south end of the park. The entrance to the greenhouse is south-facing (towards Lawrence Road).
By car: There is plenty of free car parking available via the entrance off of Lawrence Road (shared laneway to the lawn bowling club).
By bus: HSR routes 01 Main and 05 Delaware have several stops around Gage Park.
By bike: A Sobi bike rack is located on the west side of Gage Park.
Do I need to register for this event, or can I show up on the day?
You need to preregister for this event as tickets will not be available at the door.
What food will be available?
Small plant-based food snacks will be provided by That Planted Fork. Please let us know if you have any severe food allergies. Food will not be available for purchase, however, you're welcome to bring your own snacks and beverages if desired.
Despite taking place in a humid environment, this is a dry event.