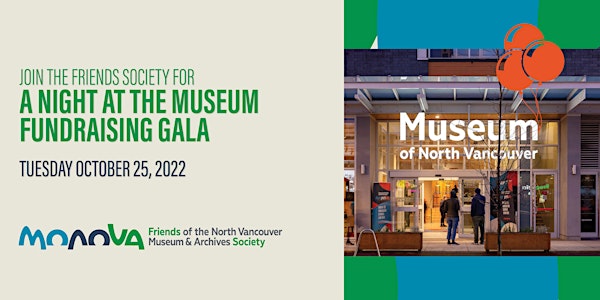 Night at the Museum Fundraising Gala 2022
Join us and our Living History Makers in celebrating 50 years since the 1972 inaugural opening of a Museum and Archives in North Vancouver.
When and where
Location
MONOVA (Museum of North Vancouver) 115 Esplanade West North Vancouver, BC V7M 1A1 Canada
Refund Policy
Refunds up to 7 days before event
Eventbrite's fee is nonrefundable.
About this event
The Friends of the North Vancouver Museum and Archives Society invite you to join us on Tues, Oct 25th, from 6:30pm to 9:30pm as we celebrate 50 years of Sharing North Vancouver Stories while mingling with Living History Makers!
Hear from our Living History Makers how North Vancouver has grown and developed over the past 50 years. Find the perfect Christmas gift (for yourself or others!) through our many live and silent auction items available (including a framed rare Bill Reid print, tickets to Capilano LIghts at Christmas, various gift certificates, gift baskets and more). Mingle with our Living History Makers, and encourage them to share their stories. Join us as we celebrate our community, our history and our future. The museum gallery will also be open for viewing.
Tickets are only $89 and include catered appetizers, a drink ticket for either wine or beer, a complimentary glass of champagne, and a celebratory slice of cake.
Preferred Dress: Cocktail (ties optional)
Thank you to our Supporters
This event is generously supported by Served Catering, Polygon Homes, The Shipyards District, DLO Move Support Services, PARC, Lakes, White LLP, Tireland Performance Centre, MacCormac and Company, Shaketown Brewing, LOBLAWS, Intuit Art Gallery and many dedicated Community Supporters and Volunteers.
Meet our Living History Makers who will be mingling throughout the evening
1) Living History Makers - Latash Maurice & Delhia Nahanee: Recognized Squamish Elders and Knowledge Keepers. Latash is a gifted storyteller, journalist and protector of Sḵwx̱wú7mesh culture. Delhia is an advocate for women and children who believes "that our strengths and roots lie within our songs, stories and laws". Ask them about their collaboration with MONOVA and the community helped to identify the indigenous stories that are evident throughout the new museum space. #HistoryLivesHere
2) Living History Maker - Carleen Thomas: Tsleil-Waututh Elder and Educator Elder Thomas is the first Indigenous person to hold the Chancellor position at Emily Carr University and is recognized for her commitment to share Tsleil-Waututh knowledge with us and the broader community. Hear Elder Carleen Thomas discuss MONOVA's Welcome Circle showcasing the Tsleil-Waututh and Squamish Nations stories. #HistoryLivesHere
3) Living History Maker - Bob McCormack: Mr. North Vancouver. Mollie Nye was his teacher, Walter Draycott was his neighbour! Hear direct stories from life-long Lynn Valley born and raised resident, Bob McCormack. Ask him about his Vancouver 2010 Olympics Torch Run Relay participation, his cousin born on a North Vancouver homestead, his 60-plus years of volunteering, or how North Vancouver has changed. #HistoryLivesHere
4) Living History Maker - Phil Nuytten: Marine Explorer, Inventor, Entrepreneur. Proud of his Metis heritage, Phil Nuytten of Nytco Research and Can-Dive Services is a long-term North Vancouver entrepreneur, inventor and explorer. Ask him how he designed and developed the underwater suit, Newtsuit, or of his training of astronauts. If underwater or space adventure makes you nervous, listen to his stories of diving with former Prime Minister Pierre Elliot Trudeau, his becoming an Officer of the Order of Canada, or about his native carving and totem pole restoration work. This is a man of many talents. #HistoryLivesHere
5) Living History Maker - Don Bell: Politician Extraordinaire. Council member, Mayor, school trustee, private enterprise, Provincial MLA and Federal MP. Don Bell has been dedicated to serving his community and has been actively engaged on the North Shore for many decades. Hear his story on the growth and changes in North Vancouver from his many perspectives. #HistoryLivesHere
6) Living History Maker - Nancy Kirkpatrick: Museum Visionary. Hear how MONOVA was developed from concept to design to finish. Nancy Kirkpatrick, former MONOVA Director, was an integral part of MONOVA's formation and where it now is. Hear her vision and journey for our award-winning archives and our North Vancouver Museum. #HistoryLivesHere
7) Living History Maker - Hamid Zargarzadeh: Community Recorder. Hear Hamid's story of how our Persian community has grown from 1972 to their vibrant presence in North Vancouver. Capturing the visual history of North Vancouver, Hamid has received the Queen's Jubilee Media for his contributions and provides an interesting perspective of North Vancouver history through the lens of our Iranian Canadian family. #HistoryLivesHere
8) Living History Maker - Dave Brewer: Co-founder of the North Shore Rescue . Dave and his brother, Gerry Brewer, are founding members of the North Shore Rescue Society, one of the oldest search and rescue teams in Canada, providing volunteer rescue team members for mountain, helicopter, urban search and for civil emergency response. Find out what makes North Shore Rescue one of the best volunteer search and rescue teams in the world. #HistoryLivesHere
9) Living History Maker – Len Corben: North Vancouver's Premier Sports Historian. Sports historian and author of three books on local sports history, Len Corben was also a sportswriter/columnist with local community newspapers. Len's commitment to athletics includes 31 years as the coordinator for North Shore Secondary School athletics. Hear about the history of North Vancouver sports. #HistoryLivesHere
Why we are having this Fundraising Gala
Proceeds of this gala event go towards supporting programs and exhibits at the MONOVA Museum, where History Lives!
Sharing of Indigenous knowledge and First Peoples Principles of Learning.
Sensory Friendly Mornings, offering children with autism spectrum disorder visits in a calm atmosphere.
Experiencing the Archives with online archival exhibits and #NorthVanStories Living History project.
School curriculum-based activities.
Thought-provoking exhibits and events, and so much more.
About MONOVA
MONOVA is a shared partner agency of the City and District of North Vancouver and operates both the Museum of North Vancouver and the Archives of North Vancouver.
About the Friends Society
The Friends of the North Vancouver Museum and Archives Society supports MONOVA's objectives to transform the way people experience North Vancouver's stories through innovative programming. We are a charity and membership organization dedicated to developing awareness of our community history by supporting and raising funds for MONOVA.